Jump to
News broke this week that the UFC is the latest sporting organization to announce plans to jet to Saudi Arabia. They'll plant the Octagon in Riyadh on March 24, 2024, per a report from ESPN.
Now, let me fill you in on an important conversation that happened in the UFC offices prior to this announcement. It's a conversation that has been mirrored by every other fight promotion doing business with governments like the Kingdom of Saudi Arabia and Qatar.
"How do we get our cash and avoid political retribution?"
After the recent Hamas attacks in Israel with hundreds of civilians murdered, the risk profile of promoters pushing big fights in the Middle East just got even higher. In the process of chasing tens of millions of dollars, no one wants to be responsible for holding an event that turns into the next Munich 1972 sporting massacre.
The irony of promoting combat sports near a war zone
In a business that promotes eternal conflict, there is a certain painful irony in conducting business in or near a war zone and hoping that peace lasts just long enough so you can safely escape back home.
Obviously, Saudi Arabia is not Gaza. Riyadh is about 1400km (almost 900 miles) from Israel, but it's extremely naive to believe that the sudden eruption of violence out of Gaza over the weekend will not have an impact on Saudi Arabia.
In fact, it's only been a few months since New York Times columnist Thomas Friedman celebrated the new ease of travel between Riyadh to Tel Aviv in anticipation of the two countries normalizing relations.
That diplomatic process, years in the making, is on fragile ground.
It wasn't too long ago when Houthi rebels from Yemen were attacking Saudi oil facilities and Riyadh itself with missiles and drones. The Chinese-brokered peace deal between the Saudis and Iran seemed to have reduced the risk of a repeat (the Iranians were backing Yemen against the Saudi invasion which started in 2015).
The growing drum beats of an American political class wanting a direct military conflict with Iran means all bets are off when it comes to future sanctions and conducting business in the region. So much for easy money, huh?
The Fight biz thrives on dirty money
The fight business has always thrived on dirty money. Some money is dirtier than others. Promoting big fights in the Middle East makes most yakuza gangs look like nuns at a monastery.
Vince McMahon's legacy of signing a major deal betwee
n WWE and the Kingdom of Saudi Arabia earned him enormous backlash from his critics. What he saw was an ongoing freight train full of cash that was going to overwhelm him and every other major sports property in the world. The man who embraced cable television expansion and live-streaming premium content was never going to reject KSA money. Why get steamrolled by a hostile takeover when you can grab the same bag as the owners in the Premier League? Everybody's got a price, right? That price tag can come with some headaches.
Remember the rumors and lawsuits filed in 2020 regarding allegations of wrestlers being "held hostage"? WWE vigorously denied the claims but the gossip mill had already created a negative portrayal of scrutinized WWE/KSA ties.
Despite whatever complications there were from the Supershow event, WWE continued their lucrative agreement with KSA to promote events like Crown Jewel. Female wrestlers changed their attire. The telecasts aired infomercials promoting goodwill in the Kingdom.
The closeness of WWE to KSA became a flash point when wild speculation hit the internet that the Public Investment Fund had supposedly purchased WWE. The PIF didn't end up with WWE but they got the next best thing with the TKO merger.
UFC owner Ari Emanuel isn't afraid, but should he be?
Ari Emanuel isn't afraid of doing business with any government or any political party at any time. That's the price of promoting your company as a quasi-government contractor.
Eddie Hearn, promoter of Matchroom Boxing, has been the most vocal supporter of promoting big fights in Saudi Arabia and has taken a verbal tongue-lashing over it on venues like Talksport. The tongue lashing doesn't matter if the payoffs are triple the size of purse bids from other countries. Mr. Hearn's argument sounds like recent comments from another boxing promoter, Todd DuBoef.
Promoting the upcoming Tyson Fury vs. Francis Ngannou fight at the end of October, Mr. DuBoef revealed to Gareth Davies a sense of confidence mixed with a sense of inevitability that all of KSA's resources for investment in combat sports is an unstoppable force.
"Look at the soccer players getting [hired]. Headlines last week that they're going to be finalists for the World Cup. Formula 1. Formula E. WWE. They are now becoming and are able to establish themselves as a hub of global entertainment. As a child of Las Vegas, that's what Las Vegas and Caesars Palace was, right? They [used] boxing as that mechanism, to draw people in, to draw global attention but on a way bigger level."
The timing of Mr. DuBoef's comments about KSA promoting fights like Caesars Palace in Vegas ignited a curious flashback for this experienced fight fan.
1993 Fan Man incident presents scary possibilities
Caesars Palace happened to have a very high profile security incident in 1993 with a motorized paraglider that would change the way major sporting venues analyzed risk assessments.
The 1993 "Fan Man" fight between Riddick Bowe and Evander Holyfield.
There's a generation of American fight fans who were born after the 9/11 attacks. They don't know of the American way of life without the Patriot Act and mass surveillance. Nobody could have conceived of a random guy parachuting into a world heavyweight title prize fight. Who would do such a thing?
Now try to imagine the challenge of promoting "easy events" in the Middle East with paragliders and drones flying in the region. It's great to make a buck when there's peace. With tensions rising and political alliances fraying, promoters will now get to experience the joys of trying to cash in with big fights in mostly outdoor venues during a hot conflict.
One terrorist attack at a Saudi-backed sporting event could upend that government's entire sports investment strategy.
The logistical complications of maintaining security for upcoming fights in venues like Riyadh is going to be a challenge for both promoters and the governments sponsoring the bouts.
As we highlighted earlier with Vince McMahon's previous dealings with KSA, you never are really truly sure what is happening on the ground. What's the trust factor? What happens when you have rich businessmen who have their own private security firms, some of which may not get along with the governments you're doing business with or – even worse – accuse them of targeting their clients? Get used to hearing names like Gavin de Becker and Erik Prince.
How safe is travel to Saudi Arabia?
How secure is the airspace for flights in and out of a country like Saudi Arabia? Many airlines are cancelling flights in and out of Israel. You never know when an airport becomes a prime target of attack. Interesting times in Cairo, Istanbul, and Dubai.
The US State Department as of July 13 rates the risk of travel to Saudi Arabia as "Level 3 – Reconsider Travel" and that was before the Yom Kippur attacks on Israel.
According to Forbes, "this spring, Saudi Arabia's Ministry of Tourism quietly ordered the removal of all security checkpoints for vehicles and guests at tourism lodging facilities, according to Michael O'Rourke, CEO of Advanced Operational Concepts, a security consulting firm.
"'This mandated change was not the result of an improved security situation or a reduced risk of terrorism,' he says. 'The removal of these defenses has created a security gap you can drive a heavily-laden truck through.'"
That same Forbes piece highlighted another risk of travel to the Kingdom, "'The country is also known for its surveillance of telephone and electronic communications', says Dale Buckner, a travel security expert and CEO of Global Guardian.
"'Travelers should assume that communication is monitored at all times,' he says. 'Hotel rooms may also be subject to surveillance and can be accessed without the consent of the guest. Electronic devices may be screened by customs officials on arrival and departure.'"
Running a major combat sports fight in an outdoor venue during a hot war is a massively appealing target to anyone looking to cause trouble and send a message to the world. Emotions can run high, especially among office staff and fighters. Policies and procedures you hoped to avoid come into play. Take for example Dana White's recent comments about UFC "ending" their flag ban.
"Everybody's too soft, everybody's too sensitive about everything. When the decision was made to do this, I was just like, 'Eh, what's the big deal if they don't have flags?' Mexican Independence Day flipped the switch and I was like, 'That's enough of the no flags thing.' Flags are back. If any flags hurt your feelings, too f*cking bad."
Try waving the Israeli or Palestinian flag right now at a UFC show on foreign soil and see how flexible TKO is on their speech & expression policy when tensions flare up. All you have to do is go on Twitter and take a look at some of the comments directed by various fighters and agents towards each other.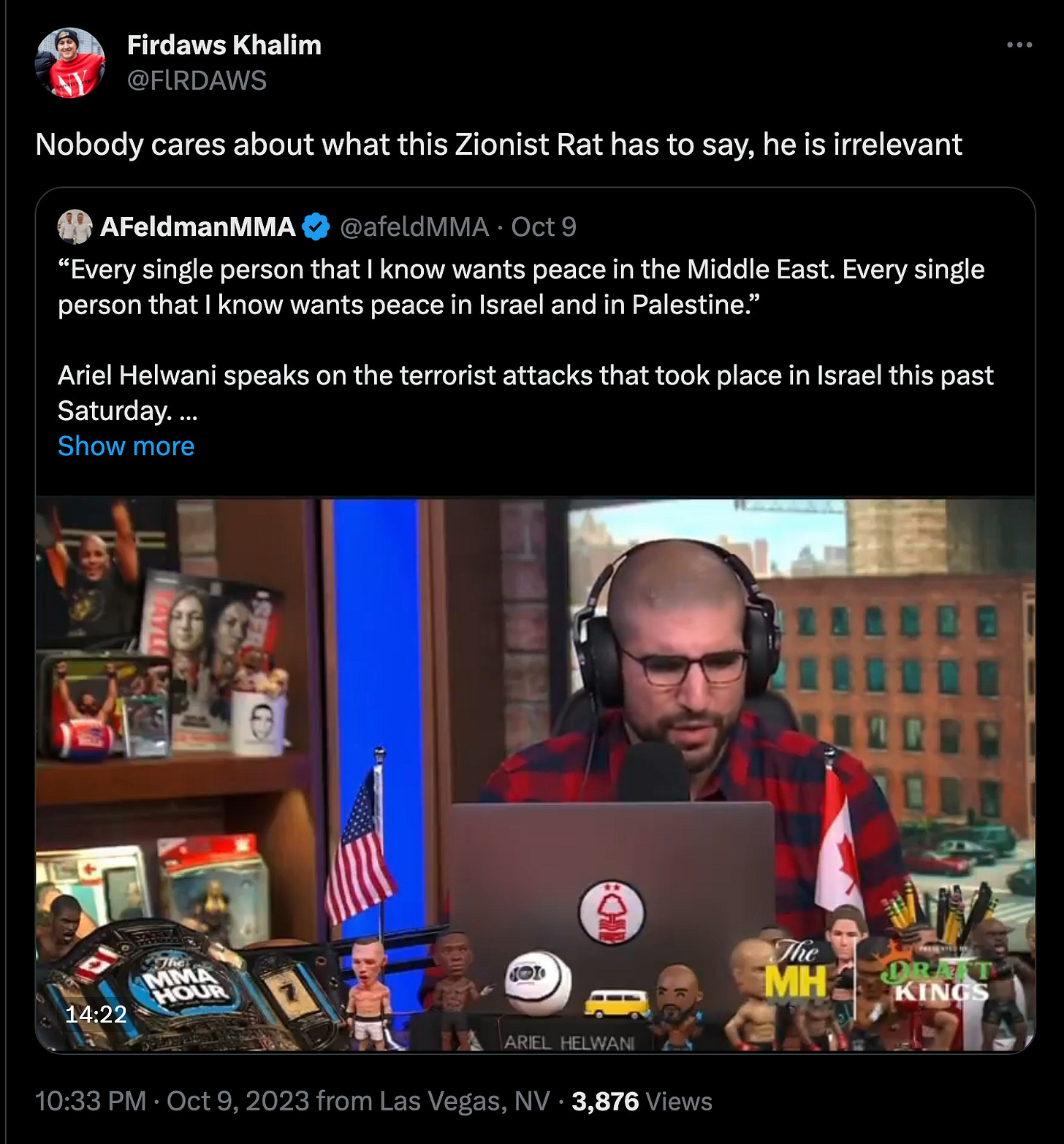 Once you start signing contracts with Middle Eastern governments to represent their interests, you assume the risk and absorb the chaos. There will be a growing list of conscientious objectors who will simply say they want no part of this.
In the immortal words of Bobby Heenan, "there are no friends, only enemies!"
This post was originally published on the Bloody Elbow Substack on October 11.
---
Join the new Bloody Elbow
Our Substack is where we feature the work of writers like Zach Arnold, John Nash and Connor Reubusch. We're fighting for the sport, the fighters and the fans. Please help us by subscribing today.
---
About the author