Jump to
Conor McGregor tweeted a viral screenshot that seems to show him fighting Michael Chandler at UFC 296 in December. Is the UFC Fight Pass screenshot Mac shared even real? Does he care? Do we?
What's our lad Conor McGregor got up to now?
Conor McGregor did the work. He coached a full season of The Ultimate Fighter opposite lightweight action fighter Michael Chandler. He made sure the season featured many moments of McGregor-style controversy and drama. He hyped the fight with plenty of trash talk about Chandler. Etc etc.
But the one thing he didn't do was re-enter the USADA (United States Anti-Doping Agency) testing pool by the July deadline to fight in December.
Now Dana White has blustered that USADA doesn't matter, and technically he's right. But nonetheless the fight remains unbooked. Or does it?
Conor McGregor retweets viral meme
But then this meme started going around and Conor retweeted it. The meme purports to be from UFC fight pass and shows Chandler vs McGregor headlining the UFC 296 card. Interesting that McGregor isn't demanding top billing.
Update: Conor McGregor's tweet has since been deleted, but here is the photo: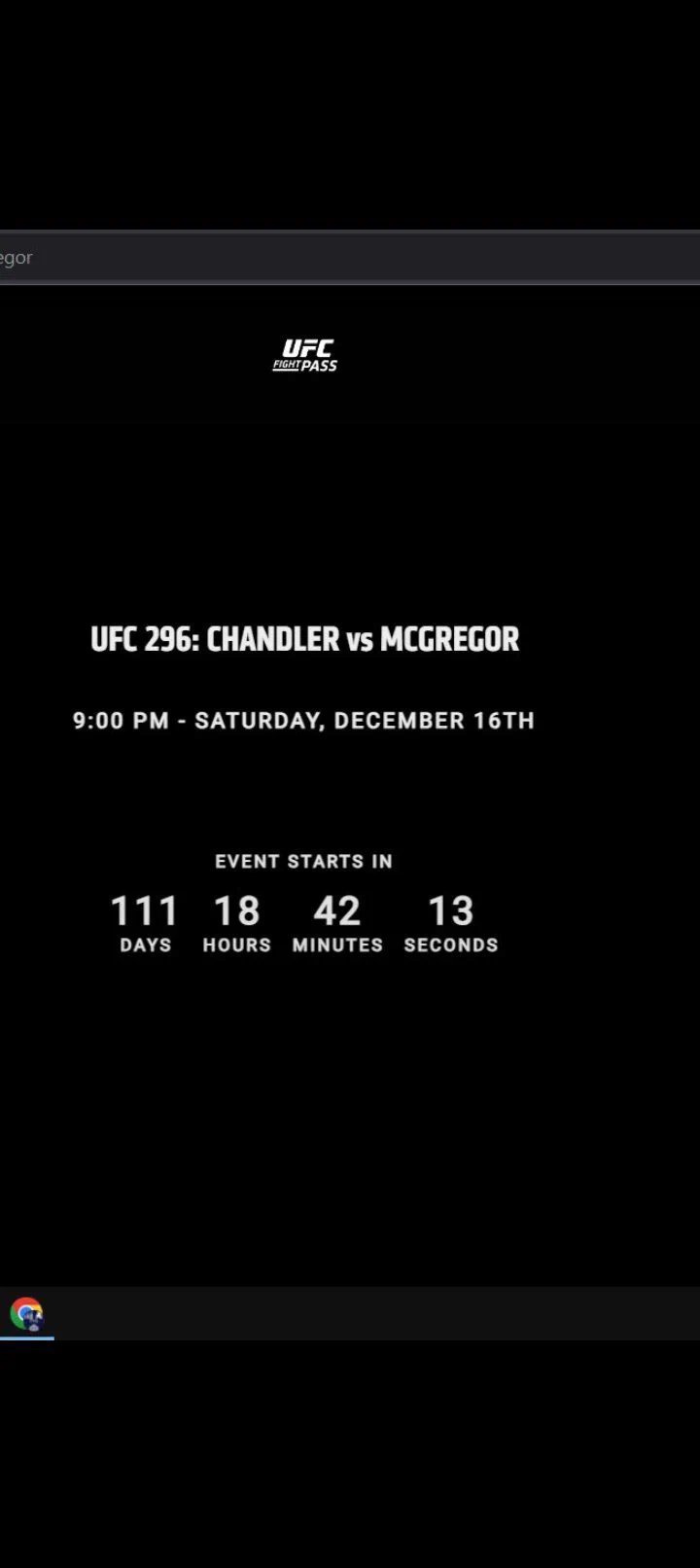 Ryan Harkness had some keen observations at MMA Mania:
"Now let's be clear: there's no confirmation that the UFC Fight Pass screenshot is legit. No one is able to find it now. It may be fake. Or it could be another employee error. It's certainly not confirmation that the UFC is going ahead with McGregor vs. Chandler on December 16th.
"The UFC has certainly goofed in the past with big fight leaks. Jon Jones' return fight against Ciryl Gane was leaked when a T-Mobile employee accidentally advertised the fight on arena video screens before the UFC had a chance to announce it. Could this be another instance like that? It's possible. But we wouldn't go and book plane tickets to Las Vegas just yet."
Update: Dana White says it's not real
Dana White addressed the screenshot Tuesday night, saying it's not real.
"I don't know how that got out or whatever. It wasn't from Fight Pass," White said. "My team was telling me it was an AI. It wasn't real. Obviously, if that was the case, you would have heard it from us first."
Sad to see McGregor on the outside looking in
After a decade in which he was one of, if not THE, most dominant and popular mixed martial artist on Earth, it's pretty sad to see Conor desperately tweeting for attention. Or DM'ing Sean O'Malley for attention. Or tweeting and deleting semi-incoherent audio bits.
But when the bar has been lowered on what constitutes a good public outing for McGregor to the point where if he didn't get arrested or sued it was a win….what is there to say?
We wish you the best Mystic Mac. Please get it together and if you aren't up for fighting, that's fine. You've done more than enough to earn your ticket to MMA Valhalla. No pressure.
---
Join the new Bloody Elbow
Our Substack is where we feature the work of writers like Zach Arnold, John Nash and Karim Zidan. We're fighting for the sport, the fighters and the fans. Please help us by subscribing today.
---
About the author