Jump to
This is a free preview article from Sumo Stomp! For in-depth sumo coverage, and notifications for when sumo content drops on Bloody Elbow, subscribe to Sumo Stomp! today.
The dust has settled on a fantastic, and historic, basho in Nagoya. Now it's time to look over all the makuuchi wrestlers and grade them on how they did on the slippery clay of Dolphins Arena. I'm starting off with the lower half of the rank-and-filers, which produced two of the top rikishi of the tournament and also a number of special prize winners.
Report Card
Hakuoho
Rank: Maegashira 17 West
Record: 11-4 (Fighting Spirit Prize, Technique Prize)
Grade: A
Hakuoho is for real. I had few doubts heading into this tournament and I have zero doubts now. This kid is a yokozuna in the making and he may get there in record time.
In Nagoya, Hakuoho continued to show that he is much more than just a prime physical specimen. In addition to his uncanny musculature/speed combination, which is matched by few other wrestlers, Hakuoho demonstrated high level grappling and improved fight IQ.
At the beginning of the tournament there were instances where his aggressiveness got the better of him (as it did in his juryo debut tournament). On Day 3 he lost to Takarafuji because he was too focused on getting a grip of his opponent's belt and wasn't paying enough attention to where the veteran was pushing him (the slippery clay in Nagoya may have played a role here, though).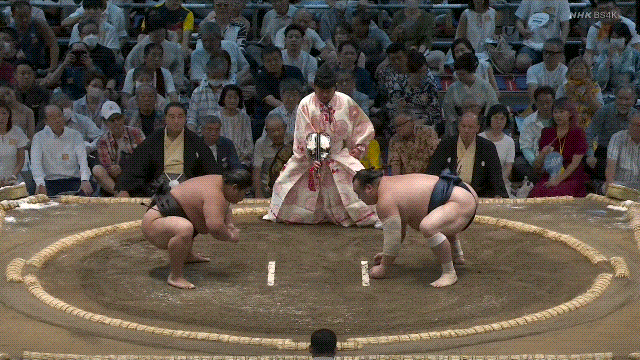 But as the tournament moved on, he showed that he could defend and react (not just attack). As the level of his opponents increased, so did his technique and strategy (to compliment that incredible physical profile).
On Day 12 he met his first ever san'yaku opponent, in the form of komusubi Abi. Abi pushed Hakouho like no other rikishi ever had (literally and figuratively). Hakuoho would have been expecting Abi's all-out thrusting attack, but I'm sure it's something that you don't know how you'll react to it until you experience it.
As you can see Hakuoho to did not blench from stiff shots to his face. What was even more impressive is that he didn't fall for Abi's best trick, the hatakikomi to an opponent rebounding off of the tsuppari. Abi went for that a few times, but Hakuoho kept his chin tucked and his center of gravity over his feet, making it hard for Abi to push him down and easy for Hakuoho to rear back up and charge forwards on good footing.
The end came when Hakouho tracked Abi to the straw (where Abi is comfortable hot-stepping out of the way to send thrusters into the first row). But instead of letting Abi pull the matador trick on him, Hakuoho was able to stay square and keep his opponent directly in front of him. Then, in a strike of genius, he was able to shove Abi out, not by pushing his stomach or chest, but by pushing his thighs, which prevented Abi from skipping out of trouble.
He showed great intelligence and technique (and strength, he always has strength to go along with that) in his later victories over Nishikigi and Hokutofuji. I covered those bouts in detail (along with his final day loss to Hoshoryu during the event so I won't rehash those here).
Hakuoho was of course prevented from having a fairy-tale ending to his first top division tournament. But he showed he's a force to be reckoned with and he's going to be involved in plenty of pivotal Day 15 bouts over the coming months and years.
He ended the tournament 11-4 with the Technique and Fighting Spirit prize. He's going to shoot way up in the banzuke for the aki basho. That means he'll be fed a steady diet of tough opponents. Many recent rookies have struggled with that transition, but I think this kid will do just fine (hopefully that shoulder is healed up, though).
Aoiyama
Rank: Maegashira 17 East
Record: 9-6
Grade: B
This was a great bounce back tournament for Aoiyama, who went 5-10 in May. He was ranked on the bubble here with a potential juryo demotion if he continued to struggle.
He earned his winning record with a very strong finish to the tournament, going undefeated from Day 9 onward, albeit against opponents who weren't in the best form. He didn't do anything too special or unexpected to get his wins. Check out his familiar push back to slap down combo on Nishikifuji below.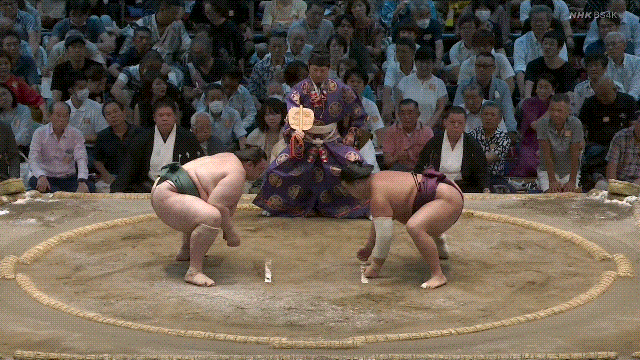 At 37 he's one of the oldest wrestlers in the division, but he showed he's still capable of hanging with the maegashira and functioning as a gate-keeper for younger talent (Hakuoho and Shonannoumi got wins over him. Bushozan, Kinbozan and Atamifuji did not).
Bushozan
Rank: Maegashira 16 West
Record: 3-12
Grade: F
This was a tough one for Bushozan, who was appearing in his second ever top division tournament and coming off a one tournament stint in juryo where he went 10-5.
I think Bushozan has too much weight on his frame to be effective in makuuchi. He is a pusher/thruster, but at 5'6" there's not many wrestlers he can bowl over at this level. He did get a nice hikiotoshi win over Ryuden, but during his 12 losses he was either pushed back by stronger wrestlers or flipped over by smarter ones.
See what happens when he tries to run over a bigger and smarter opponent (Shonannoumi) below: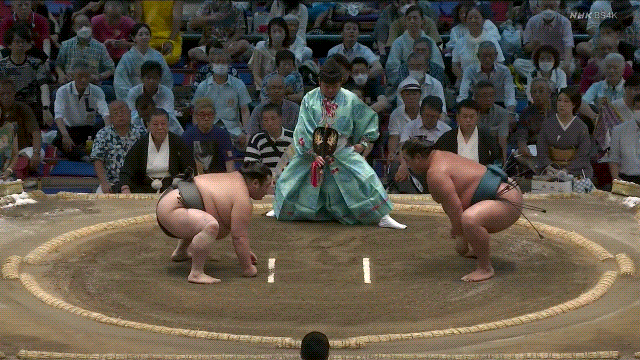 Endo
Rank: Maegashira 16 East
Record: 10-5
Grade: B+
Like Aoiyama, Endo saved his top division placement which a much improved performance in Nagoya. He's one of a handful of vets who came out of Nagoya with winning records after slumps that had dropped them way down on the maegashira rankings.
Other than against the refreshed Aoiyama, all of Endo's losses in Nagoya came against wrestlers who were on fire this basho (Nishikigi, Hokutofuji, Hakuoho and Kotonowaka). His wins were mostly lively and diverse and he scored his kachi-koshi on Day 10.
This was exactly the kind of rebound I was calling for after the natsu basho, so Endo thoroughly deserves a high grade here.
Takarafuji
Rank: Maegashira 15 West
Record: 9-6
Grade: B
Takarafuji is another one of these guys who, after stinking it up in May, came back with a vengeance in Nagoya. The 36-year-old former sekiwake managed a very respectable record this basho and helped beat off questions as to whether he would be retiring anytime soon. The fact he was able to hand Hakuoho his first ever makuuchi loss shows the old man still has plenty left in the tank.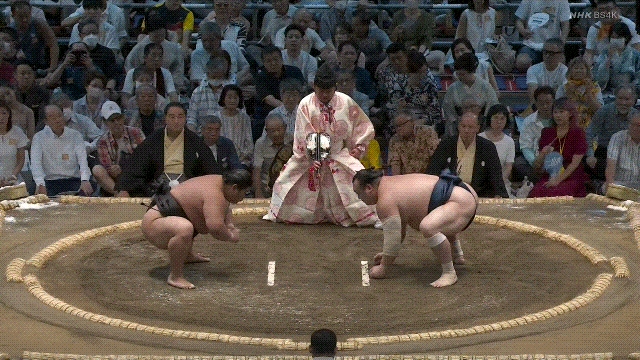 As you can see above, the notoriously slippy Nagoya ring may have played a factor here. But it's still impressive that Takarafuji was able to push the much younger Hakuoho backwards, before using his veteran savvy to shuck the young man to the side and onto the clay.
Ryuden
Rank: Maegashira 15 East
Record: 10-5
Grade: B
Ryuden is in that same category as Takarafuji, Endo and Aoiyama; guys who can see the new wave crashing against the shore and are desperate not to get swept away. Ryuden looked incredibly anemic in the last two tournaments, going 2-13 and 5-10 and was seemingly incapable of summoning enough strength to halt any charge that came up against him. He's had serious injuries the past (including a broken pelvis), so there's a good chance he was fighting while very hurt over that chunk of the year.
In Nagoya, though, he looked very dangerous and was able to reel off a 10 bout winning streak after going 0-4. The streak started with a win over Hakuoho and included victories over lower ranked guys until he met, and beat, a crestfallen Nishikigi on Day 14. On Day 15 he was walloped by Kotonowaka.
This win over Myogiryu shows how different he looked this time around compared to a few months ago.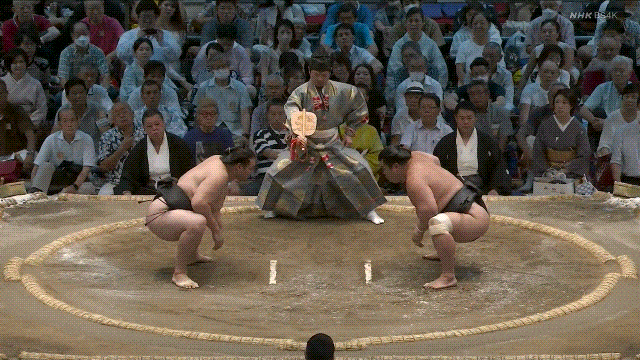 Myogiryu is a strong wrestler and Ryuden was able to keep him rooted to the spot, arms pinned with a vice-like grip. He also showed good quickness here, shuffling his feet away from the boundary, while twisting his opponent down and over to score the win.
Shonannoumi
Rank: Maegashira 14 West
Record: 10-5 (Fighting Spirit Prize)
Grade: A-
If Gonoyama came into this basho as the overlooked rookie, Shonannoumi came in as the completely ignored rookie. And that seemed to suit him just fine, with all the spotlight (and pressure) on Hakuoho and, to a lesser extent, Gonoyama, Shonannoumi looked like he was operating with composure and confidence beyond his years.
The 25-year-old spent nine years in the lower division, which now feels like a product of immaturity and conditioning rather than skill. He seems to have all that figured out now and his physical profile paired with his deft and heady grappling gave his opponents all kinds of trouble in Nagoya.
His statement win of the tournament has to be his Day 12 kotenage win over the yusho-chasing Nishikigi.
Nishikigi was one of the stories of the tournament and part of the reason why was because he was an absolute brick wall off of the tachiai. Not even Terunofuji could budge him.
Against Shonannoumi he also didn't take a step back off the initial contact. However, the young rookie was able to match him and show off incredible strength in holding onto his mawashi with an inside grip, while keeping his arm so taut and tight to the body that Nishikigi could not force his own arm inside.
When Nishikigi overcommitted to that failed grip attempt, Shonannoumi was able to take a step forwards, get an angle and then pull off this beautiful throw.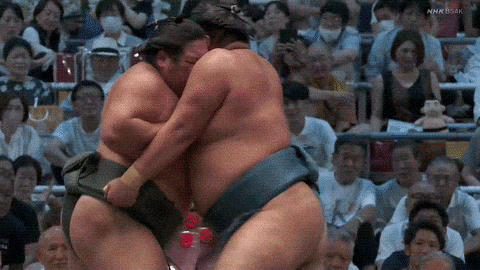 Incredibly impressive tournament from the debutante and I look forward to seeing how he responds to a higher ranking in September.
Daishoho
Rank: Maegashira 14 West
Record: 6-9
Grade: D+
A bad basho for Daishoho and a lot of his defeats seemed, to me, to stem from a lack of intensity. I know everyone is supposed to appear stoic on the dohyo, but Daishoho gives more of an anxious than stern vibe as he avoids the glare of his opponents and looks spaced out after losses.
He struggled against a variety of styles this tournament, being pushed out by the relentless Gonoyama and being turned and bounced by the crafty Kotoeko. He also lost a lot of bouts by yorikiri, which to me speaks to lack of rising to the challenge when chest-to-chest with an opponent. He lost five of those duels with his other four losses being push outs.
He gets a D+ instead of a D for beating Roga on Day 15. That was a replacement bout that would have seen him demoted if he'd lost.
Kotoshoho
Rank: Maegashira 13 East
Record: 7-8
Grade: C
It's been rough for Kotoshoho since his surprising jun-yusho in January. Despite coming second in that tournament, his sumo looked a little out of control. And in the tournaments that followed that became painfully obvious, as many of his bouts ended with him getting a mouthful of dirt. After an injury struck 2-10-3 tournament in May, he rebounded here with a 7-8. Still a losing effort, sure, and aided by a Day 15 fusen, but there looked to be some improvement this time around.
He still lost by hatakikomi a few times, but he was also able to hang in there in some tough situations and get some good confidence-building wins. My C is probably a little generous here, but it's because I wasn't getting the same desperate (or even scared) vibes I was feeling off him in the past two tournaments.
Gonoyama
Rank: Maegashira 13 West
Record: 10-5 (Fighting Spirit Prize)
Grade: B+
Gonoyama finished with the same Record as Shonannoumi, but I've graded him slightly lower. That's mostly due to…
Subscribe to Sumo Stomp!
To read the rest of this piece, and more in depth sumo analysis, head to the Sumo Stomp! substack.
---
About the author