Jump in
The July banzuke was released this morning, so I am sneaking in the last of my natso basho content while it still feels relevant. This is the final report card in my series, where I grade all the participants of the May tournament.
I've only got two guys to grade in this piece, so I've gone into deeper detail when analyzing the tournaments of ozeki Takakeisho and yokozuna Terunofuji. Hope you enjoy it!
---
Report card: Ozeki and Yokozuna
Takakeisho
Rank: Ozeki
Record: 8-7
Grade: B
Takakeisho's 2023 is yet another example of how quickly things can change in sumo.
In the January tournament he torched the competition for a 12-3 yusho. That win, which came after a second place finish in November, had many thinking a yokozuna promotion was around the corner for the lone ozeki. March's tournament, in Keisho's backyard of Osaka, felt like it could have been a coronation tournament for the rotund wrestler.
However, Raiden-sama had different ideas. On the first day of the haru basho Takakeisho was slapped down by Tobizaru. Then, after blasting through Tamawashi and Shodai, he was slapped down again — this time by Abi.
After that second loss, Takakeisho hobbled off of the dohyo in obvious pain. He toughed it out with wins over Ryuden and Mitakeumi, but then had to sit out the rest of the tournament due to a knee injury.
This resulted in a 3-4-8 record, blowing his chance of becoming the 74th yokozuna (at least for now).
He came into May with kadoban status (meaning if he didn't get a winning record in the tournament he would lose his ozeki rank).
I was scared for Takakeisho. I honestly thought he would be 2023's main character in sumo after his January win. And there were rumblings that he hadn't looked well or particularly impressive in the exhibitions, tours and open workouts between tournaments.
His Day 1 opponent was Abi, who may have caused or aggravated the injury that took Takakeisho out of the March tournament. Takakeisho won the bout, smartly, deciding to be cautious with the aggressive and crafty Abi. After pushing out Abi, Takakeisho gingerly hobbled off the dohyo again (just like in March).
On Day 2 he met Kotonowaka, with heavy strapping on his knee. He couldn't have been matched against a worse person and was he looked completely inable to drive forwards off his banged up knee. This resulted in a rather dainty yorikiri loss.
On Day 3 he powered through the smaller Midorifuji and on Day 4 he scored a quick henka win off of Endo. It was clear at this point that Takakeisho was looking to get to eight wins as soon as possible without doing further damage to his knee.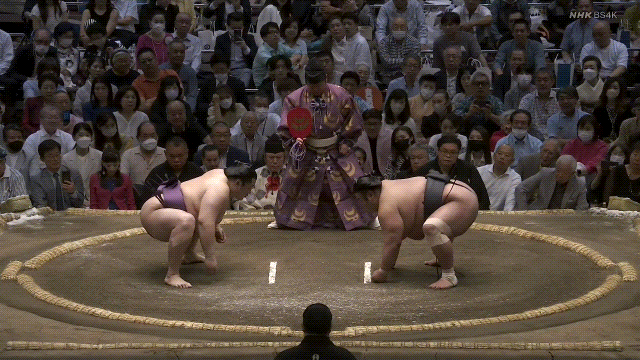 On Day 5, Takakeisho met Tobizaru and looked as though he had recovered a little, as he drove with power at the Flying Monkey. However, Tobizaru did what he does best, rode out the adversity and pulled a rabbit out the hat at the last second. This manifested in both men flying towards the dirt, but with Tobizaru able to hang for a second longer and take the win, dropping the ozeki to 3-2.
He looked great in his next three bouts, charging out Nishikifuji, Ura and Shodai in a style we have been accustomed to. He may have paid for those bursts of power, though, since he lost to Nishikigi (who had fantastic tournament) by yorikiri and then Kinbozan via oshidaski (in a bout in which he looked especially wounded).
On Day 11 Takakeisho stopped the slide with a crafty hikiotoshi win against fellow pusher-shover Daieisho.
He entered Day 12 with seven wins and was matched with Kiribayama for his first shot at getting kachi-koshi and saving his ozeki skin. Kiribayama wasn't going to do him any favours, though.
The sekiwake (who would make ozeki after his performance in this tournament) got off the blocks quickly in the bout and perhaps surprised Takakeisho. Against other big pushers, Kiribayama has been known to play more of a matador role (like in his championship winning performances over Daieisho in March).
After locking up on Takakeisho's belt, Kiribayama put his head in the middle of his opponent's chest and drove him back with force.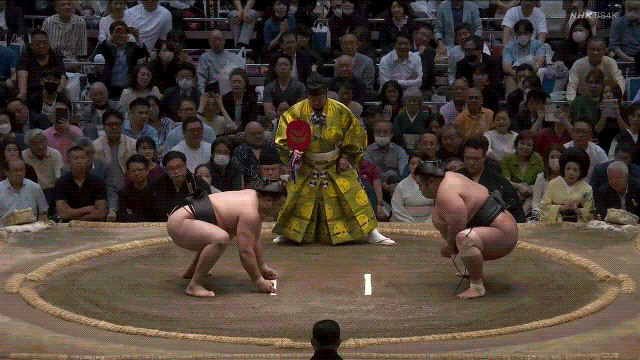 Takakeisho's next chance at eight wins came against Meisei, who was slumping after his stunning win over Terunofuji on Day 9. This time around, Takakeisho was able to come out on top.
Meisei, having seen what Kiribayama did the previous day, opted to test the ozeki's base with a powerful push off the tachiai, no doubt betting on himself to to rush the banged up Takakeisho out of the ring. I think Takakeisho predicted this, too, though. In response he gave the aggressive Meisei a henka.
Notice the difference in the starting positions in the gifs above. Against Meisei, Takakeisho gets down early, as if challenging his opponent to blast off into him. Takakeisho did the same thing against Endo.
A healthy non-kadoban Takakeisho would probably turn his nose up at the technique, but in his position he did what he needed to do. And, thanks to that spirit of perseverance, he got his winning record.
Takakeisho finished the tournament off by losing a violent brawl with Wakamotoharuand then getting forced out by Terunofuji. Against Wakamotoharu, he fought as though the sekiwake had stolen his girl. They beat the heck out of each other in a fight that looked personal. We'll keep an eye on that one in Nagoya.
Against the yokozuna Takakeisho looked as though he pushed through the pain to honour his opponent with his best effort.
Takakeisho gets a solid B from me, despite his ho-hum 8-7 record. I was rooting for him throughout the tournament, while cursing the state of sumo that means so many of the sports' best athletes are forced to compete at far below their maximum capacities.
Takakeisho showed incredible grit to get through this tournament, as you'd expect from any product of the brutal sumo system where fighting hurt is the default. But he also fought with guile. He adapted his style, something many thought was impossible prior to his injury, so he could score wins without having to go full tilt with his pushing/shoving. His two henka victories were integral to him piecing together a tournament that kept him as an ozeki and kept him in the hunt to become the 74th yokozuna.
I criticized Daieisho in the last report card for not finding another gear or adding a layer to his game, so I have to praise Takakeisho for doing just. He really impressed me in May and I hope he carries forward some of that deftness and unpredictability in future tournaments.
Terunofuji
Rank: Yokozuna
Record: 14-1 (yusho)
Grade: A
My grade is pretty obvious here, the only thing stopping me from doing A+ is that Terunofuji wasn't completely perfect. He was as close to that as possible, losing just once (on Day 9 to Meisei).
We had been waiting for this tournament with bated breath ever since it was confirmed that Terunofuji, sumo's only current yokozuna, would be returning to action. The big man had been out for a year recovering from double-knee surgery.
In 2022, despite being sidelined by injuries and fighting while especially hurt, Terunofuji was still able to win a championship (his third since becoming yokozuna less than a year prior).
With the severity of his injuries, we were left wondering if Terunofuji would be able to return and dominate like he did prior to his surgeries (and prior to turning 30 years-old).
Well, he did just that.
Terunofuji's 14-1 yusho in May was a Thanos level destruction of a very tough field of opponents. I think we can all forgive him for
his slip in concentration that saw Meisei land an incredible opening blow against him off the tachiai, which culiminated in his only defeat of the tournament.
In every other match, Terunofuji was literally awesome.
On Day 1 he met Shodai. The former ozeki's powerful push got Terunofuji all the way back to the straw. However, like he did so often this tournament, Terunofuji just turned on the brakes. As soon as he engaged his repaired (and heavily strapped knees) and sat down on them he proved to be an immoveable object. Against Shodai, that meant he was able to twist his hips and sling his opponent out with a sukuinage.
Next up, he met Abi and this time he didn't wait to be pushed back to prove he is an absolute unit. Abi came out the gates for this fight, as he often does, spamming harite. The strikes all landed on Terunofuji, but they didn't force him backwards. Instead, they forced Abi's own feet backwards, leading to a rather cartoonish finish…
To read the rest of this piece, and more in depth sumo analysis, head to the Sumo Stomp! substack.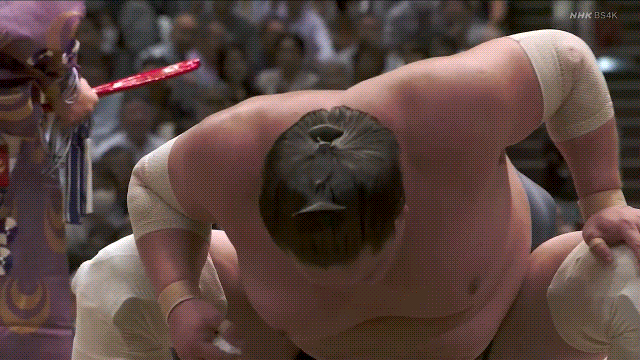 ---
Join Sumo Stomp!
Subscribe to the Substack!
---
About the author