Jump to
Hey everyone,
I'm back with another instalment of my sumo report card series. I'm really enjoying writing these and I hope you're digging them, too. This time around I am discussing the komusubi and sekiwake ranks, which includes Shodai, Wakatakakage, Kotonowaka, Daieisho, Wakamotoharu, Kiribayama/Kirishima and Hoshoryu.
We had some stunning performances from this cohort in May and a couple of disappointing ones, too. Let's get to it.
Natsu Basho Report Card: Komusubi and Sekiwake
Shodai
Rank: Komusubi 2 East
Record: 6-9
Grade: D+
After going 10-5 in May, as a member of the maegashira ranks, I had bought into the Shodai Renaissance narrative that had been floating around online. It seemed clear that he had struggled to perform under the position of ozeki (he said as much during an appearance on Sumo Prime Time) and that we were going to see his best sumo once those extra obligations and pressures had been lifted.
After being promoted back up to komusubi we witnessed another disappointing tournament. I don't know if this was because of the added pressure of being an upper-ranked wrestler or whether it's just indicative of Shodai being left behind by the current crop of elites. He's still relatively young (31) and has been relatively injury free in his top division career, so it's hard to argue that age or health are much of a factor here.
Instead, Shodai just might be a guy who can't maintain the level of performance (or intensity) that many others in this cohort bring each basho. This is frustrating because when he's on, it really feels like he has all the physical tools you'd need to dominate the dohyo. Shodai's inconsistency meant that he was able to score some quality wins in May (against Kotonowaka and Kiribayama), but finished the tournament on a three bout losing streak against lower ranked opponents (should note that one of those was Asanoyama, though).
At this point it feels like we know the story for Shodai and it's one that will keep repeating; a good showing in one tournament and then a streak of losing records punctuated by losses to opponents he should be overpowering. Here he is in that Asanoyama loss:
Shodai is famed for his power off the tachiai, but here he barely gets out the blocks before his fellow former ozeki is on him and going for the kill. The lack of intensity and grit from Shodai felt like a running theme through a lot of his May tournament. It's a shame and it will be interesting to see how he performs in Nagoya after he is bounced out of the san'yaku again.
Wakatakakage
Rank: Komusubi 1 West
Record: 0-0-15
Grade: Ungraded
This was the first tournament former sekiwake Wakatakakage has had to sit out due to the catastrophic knee injury he suffered versus Kotonowaka in March. This will force him out of the upper-ranks for the first time since he gained promotion in March, 2022. The 28-year-old has been videoed doing some light training. I just hope he doesn't come back too soon. Watchers of other sports know that a serious knee injury should really take an entire year to recover from. Despite Wakatakakage not being at this basho, his stable (and family) were well represented — more on that later.
Kotonowaka
Rank: Komusubi 1 East
Record: 8-7
Grade: C+
Kotonowaka feels like a less dramatic version of Shodai to me. He's inconsistent like Shodai, but his highs and lows are rarely as extreme. This leads to him teetering back and forth between razor thin kachi-koshi and make-koshi. This tournament he came away with a winning record, just, beating Meisei on the final day to score his eighth win. This tournament he put his back against the wall thanks to a stretch where he lost five bouts in a row (versus his fellow komusubi and all the sekiwake).
His other two losses were to Terunofuji (no shame in that) and the over-performing Nishikigi. Kotonowaka looked great against most the rank-and-filers and was able to get a win over Takekeisho on Day 2 (though, Takakeisho looked pretty banged up in that bout, coming off tweaking his knee against Abi on Day 1).
Two of the bouts that stand out to me from the past tournament are his losses to Terunofuji and Daieisho. Both of those bouts saw Kotonowaka against opponents who he matched up well against from a size and strength perspective. And in both those bouts he was able to push his opponent all the way back to the straw bales.
However, in both those bouts he was unable to get those heavy, and very good wrestlers, out of the ring. Instead, both Terunofuji and Daieisho were capable of halting Kotonowaka's forward progress before summoning up the strength needed to turn the tide on the tired Kotonowaka and score push/force out victories.
Those bouts feel like metaphors for Kotonowaka's entire game right now. He's got enough about him to push right up to the limit of being special, but can he get all the way there? I don't think so.
Daieisho
Rank: Sekiwake 2 East
Record: 10-5
Grade: B-
Despite securing a very good 10-5 record this tournament, Daieisho disappointed me. He was my pick to win in March, and he almost did win, but for the incredible performances of Kiribayama. However, how that tournament ended left me struggling to fully appreciating Daieisho's game and I think that has carried over into this tournament.
He's an excellent pusher-shower who can generate a tremendous amount of speed and power, both off the tachiai and during the second and third phases of a bout. That's enough to beat most guys, but it's not enough to beat them all.
On Day 15 in March he was matched against Kiribayama. A win would have given him the championship and a loss would have meant a playoff for he and Kiribayama.
Daieisho came forwards like a steamroller in that bout, just as Kiribayama expected. Kiribayama dodged the charge and used Daieisho's momentum against him to score the tsukiotoshi win. Losing like this to Kirbayama is nothing to be ashamed of, he is probably the best rikishi out there when it comes to reacting to an opponent and identifying the move needed to score a win.
However, in the play-off bout the exact same thing happened. Instead of trying something different, Daieisho put his head down and charged forwards. This time he was put out with more ease, costing him the Emperor's Cup.
In interviews immediately after the tournament he signalled his intent to analyze his sumo and add new layers to his game. I didn't see any evidence of that in May.
He continued to do what he was great at, yes, but he also continued to lose against wrestlers who could slip past his charge and not be bullied so easily. See below at how lost Daieisho can look when he meets someone too sturdy to push over and too fleet of foot to stay in one place.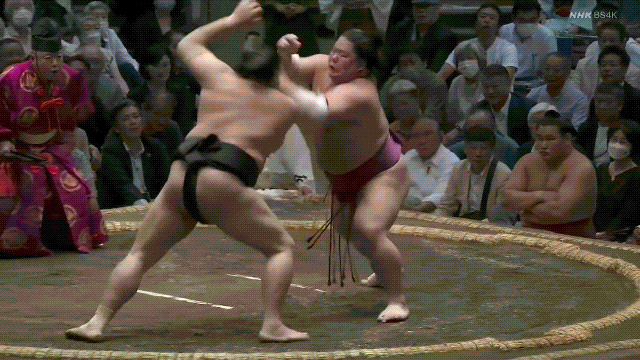 He came up short five times in the tournament, which was enough to kill his chance of getting an ozeki promotion. He'll need 11 wins to Nagoya next month to earn consideration for that promotion.
Wakamotoharu
Rank: Sekiwake 2 West
Record: 10-5
Grade: B+
Wakamotoharu looked like a man on a mission in May. His brother Wakatakakage was working on an ozeki run before being hobbled in March. While Wakamotoharu's own performance in March set him up for sekiwake status and an ozeki run of his own. He needed 13 wins in this tournament to get that promotion, but fell short by 3 wins.
He looked very aggressive throughout this tournament, which I think was a bit of a double-edged sword for him. Few rikishi seemed as amped up as he was during the basho, which materialized in some thrilling brawls and a couple of cold stare downs after the fact.
That aggressive style overwhelmed many, like Tobizaru below.
This meaner side of Wakamotoharu was complimented by his athleticism. He might be the most athletic wrestler in the division, evidenced by his incredible pivoting throw outs of Shodai and Hokuseiho. Both those wins took extreme amounts of cardio, raw power, excellent fight IQ and perfect timing.
At times Wakamotoharu's aggressiveness manifested in over-committing, though. Against Kiribayama you can see him trying to lock down on his opponent's arms and not notice the shift in the hips that sets up Kiribayama's escape and a rather insulting kick out of the ring.
That little kick wasn't the only sign that Wakamotoharu's intensity was rubbing other wrestlers the wrong way. Against Takakeisho (who isn't called the Angry Hamster for nothing), Wakamotoharu lead with a forearm smash that seemed to activate the most aggro version of the ozeki. They then engaged in a fierce slapping exchange, with both men seemingly focused on hurting the other with strikes over using them to set up a separate technique. Wakamotoharu won that exchange after shoving Takakeisho out along the edge of the straw.
Along with a 10-5 record, Wakamotoharu also earned a Technique Prize (his first ever). He'll need 12 wins in Nagoya to be considered for ozeki promotion.
Kiribayama
Rank: Sekiwake 1 East
Record: 11-4
Grade: A
Kiribayama, whose shikona has since changed to Kirishima, showed it all at this basho. He had power, grace, intelligence and creativity in spades. He also showed a bit of a mean streak with his win over Wakamotoharu.
He made it to Day 14 with an 11-2 record (thanks to slip ups to Abi and Shodai). On Day 13 he met Terunofuji with a chance to force himself into a final day play-off situation. He attacked Terunofuji's belt and tried his whole bag of tricks to get the big man off balance.
It didn't work, though. The yokozuna rode it all out and was able to horse Kiribayama out when he had a chance (which gave Terunofuji a 10-0 record over Kirbayama all-time). A final day loss to arch rival Hoshoryu followed, with Hoshoryu getting revenge for the last time they faced off — outfoxing Kiribayama with a high shoulder attack when he was defending against a trip. These two are tied in their head-to-head stats now (though one of Kiribayama's wins came via fusen). This rivalry is only getting started, though.
Day 13 was the most important day of the tournament for Kiribayama, that's when he was able to defeat Hokusieho to secure his 11th win, which he needed to secure ozeki promotion. In that bout he was able to hang with the giant sophomore and withstand having to carry his weight, while he waited for an opening to pull off this trip.
Kiribayama had plenty of crafty wins over the tournament, which earned him his third Technique Prize. He also showed a great deal of power, too, as seen by his yorikiri of Takakeisho below.
All-in-all, despite a couple of losses he'd love to have back, it was a fantastic showing for the Mongolian. At 27-years-old the new ozeki is right in his prime. I wouldn't bet against him being the next wrestler to achieve the hallowed rank of yokozuna.
Hoshoryu
Rank: Sekiwake 1 West
Record: 11-4
Grade: A-
First off, let me say that Hoshoryu had a wonderful tournament. That being said, his 11-4 record (which gave him a sniff of getting the championship in the final days) was a little inflated…
To read the rest of this post you'll need to subscribe to Sumo Stomp! on Substack. An annual subscription costs $30. Paid subscriptions support in-depth sumo articles both on the Substack and on Bloody Elbow.com.
---
Join Sumo Stomp!
Subscribe to the Substack!
---
About the author