Jump to
The natsu basho is over and now we have to wait until July for more Grand Sumo action. In the meantime, though, we've got 15 days of action to pour over and scrutinize. The May tournament treated us with epic matches and some fantastic storylines, as the returning yokozuna won it all (and looked phenomenal throughout). We also saw the ascendancy of March tournament winner Kiribayama who secured promotion to the rank of ozeki. Outside those headlines there were plenty of other wrestlers who had notable runs, for better and worse.
I've graded each of the top division rikishi who took part in the tournament for my sumo specific Substack Sumo Stomp!. Below is a free preview of the first in that series of articles analyzing the good, the bad, and the ugly from Kagayaki to Terunofuji and everyone in-between. This first piece focuses only on the lower half of the maegashira ranks.
If you like this kind of thing, please consider subscribing to Sumo Stomp! Whether you are a certified sumo-head or a casual looky-loo, please come on in – all are welcome.
Now, let's get to the grades.
Grade Cards
Kagayaki
Rank: East Maegashira 17
Record: 7-8
Grade: F
This was Kagayaki's third losing record in a row so it's safe to assume he'll be moving down to the juryo division in the next banzuke. The harsh grade here is because Kagayaki had to win in this tournament to save his top division status and he just wasn't able to deliver. A torrid start (1-5) to the tournament pretty much sealed his fate.
Mitoryu
Rank: East Maegashira 16
Record: 5-10
Grade: F
It was an underwhelming tournament for Mitoryu, whose record was ruined by a stretch where he lost nine matches in a row. Most of those losses were due to oshidashi. Among those were losses to fellow aging pusher/shovers. Mitoryu debuted in the top division last year at 28-years-old (which is pretty late), so he shouldn't have as much wear and tear on his body as some of the others he was smashing into. Even so, he wasn't able to get through other struggling shovers like Daishoho, Takarafuji, Hokutofuji and Aoiyama. Below you can see how he was unable to push back the smaller Chiyoshoma and seemed completely baffled by a relatively simple outside leg trip.
Oho
Rank: West Maegashira 16
Record: 11-4
Grade: A
This was a statement tournament for the 23-year-old. He's part of an exciting generation of rikishi that includes Hokuseiho, Ochiai/Hakuoho, Gonoyama, Tamashoho, Hiradoumi, Kinbozan, Roga and, of course, Hoshoryu. Despite breaking into the first division last year, he's been quiet other than a 10-5 tournament last November.
After two losing records Oho found himself on the brink of demotion back down to juryo in May. However, he responded with a fantastic showing, with eight different kimarite spread over his 11 wins, including a hikiotoshi against last tournament's nearly-man Midorifuji and a sotogake on the giant Hokuseiho.
Those wins showed off a level of craftiness befitting a much older veteran. He was able to pair those types of performances with some strong push outs you'd expect from such a young buck.
Ichiyamamoto
Rank: East Maegashira 15
Record: 4-11
Grade: F
Oh Ichiy… This one hurts. The man from Hokkaido has had back-to-back 4-11 records now after scoring a 10-5 record in the January tournament. In March he had a number of exciting and close bouts, which had me thinking he was more unlucky than anything else. However, this tournament he looked rash, ill-prepared and unfocused. He attacked head-on far too much, which ended in a few too many face-plants for my liking (like this one versus Takarafuji).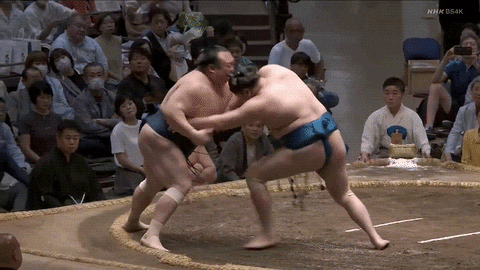 Tsurugisho
Rank: West Maegashira 15
Record: 9-6
Grade: B+
Tsurugisho was a pleasant surprise this tournament. His sumo doesn't have much nuance, but he proved he can be a real handful when he gets ahead of steam and catches someone flat footed (like he did versus Sadanoumi below).
Tsurugisho had put together a 9-3 record by Day 13. However, bouts versus the elite Wakamotoharu, Hoshoryu and Asanoyama pushed him down a peg.
Asanoyama
Rank: East Maegashira 14
Record: 12-3
Grade: A+
There's not a grade high enough for what Asanoyama accomplished in May. The former ozeki was making his return to the top division after months spent in the wilderness due to a suspension over COVID protocol violations. He won his way through the lower divisions, showing each time that he was leagues ahead of his competition. The same happened at the May tournament.
Ranked at maegashira 14 Asanoyama was fed a diet of the rank-and-filers and he showed he's just too good for them.
See how he handled Chiyoshoma below:
This bout demonstrated how strength and lateral quickness can be a devastating double-team in sumo. Asanoyama is able to immediately force Chiyoshoma backwards and shuffle to the right as soon as he senses his opponent looking for an angle to either escape or set up a throw or a trip. He blocks those attempts while still surging forwards and scoring the yorikiri.
His three losses came to Hokuseiho, Daieisho and Terunofuji. There's no shame in losing to the yokozuna and eventual tournament winner. And he faced Daieisho on a day the sekiwake needed a win to maintain his shot at ozeki promotion. The loss against Hokuseiho was his low point of the tournament, but the enormous Miyagino product is going to handle and lift out many good wrestlers in his young career.
Myogiryu
Rank: West Maegashira 14
Record: 9-6
Grade: B
Despite being 36-years-old Myogiryu showed he is still strong enough to hang in the makuuchi. He was able to beat a handful of guys ranked above him this tournament, mostly thanks to his tremendous upper body strength. Most of his wins were rather straight forward, so despite his decent record it wasn't a very memorable tournament for him. He did have this entertaining slap war with Aoiyama, though.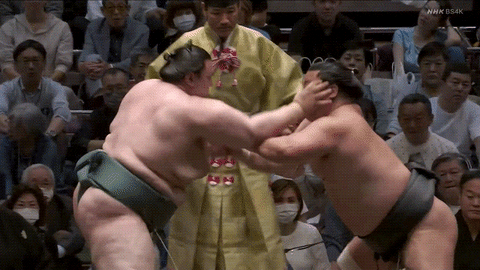 Chiyoshoma
Rank: East Maegashira 13
Record: 8-7
Grade: B
This was a very good performance from the 31-year-old Chiyoshoma, following up a 9-6 record in March. He scored some big wins over Tamawashi, Onosho, Sadanoumi and Ryuden and did so with a lot of panache. His sumo is quick and crafty with an arsenal of trips that can pose a lot of problems. See his deft pivot and hatakikomi over Sadanoumi below as evidence of that.
Ichinojo
Rank: West Maegashira 13
Record: 0-0
Grade: Ungraded
Ichinojo retired before the tournament began, shortly after winning the juryo championship in March. You can read more about his retirement here (link). That was written before tabloids reported that Ichinojo's retirement was a forced one, allegedly because of his alcoholism. Reports state that complaints were being filed to the Japanese Sumo Association because of raucous parties Ichinojo was hosting as his apartment, neighbouring the stable.
If he were still competing, I believe he would have had no trouble getting a winning record this basho and posing a big risk to those chasing promotions. However, now I just hope he gets whatever help he needs.
Aoiyama
Rank: East Maegashira 12
Record: 5-10
Grade: D
It was a bad tourney for the Bulgarian, who seemed out of ideas in a lot of his bouts. He would charge forwards, throw hands and then be caught flat-footed once his opponent circled away and changed angles. His sumo (which consists mostly of pushing and thrusting) has given him great longevity, but not a lot of success. His stablemate Tochinoshin retired this year at 35 (a year younger than Aoiyama), mostly due to years of hoisting dudes up in the air.
Despite this style keeping Aoiyama in the game, his decline in foot-speed and reflexes means he's become an easy out for a lot of guys in the makuuchi. His only win of note in May was a nifty katasukashi on Hokutofuji on Day 15. That didn't do much to erase how often he was on the receiving end of a low octane push/force out, though (like what happened versus the smaller Hiradoumi below).
Kotoeko
Rank: West Maegashira 12
Record: 8-7
Grade: B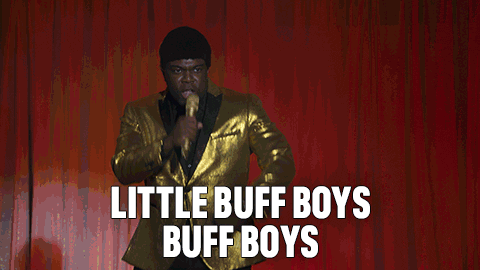 Kotoeko is another personal fav of mine. In May I enjoyed seeing him put together his second 8-7 record in a row and do so with his patented brand of Jack Russell sumo. Despite being 5'9" he's so good at stopping bigger wrestlers (which is mostly everyone) getting a hold of him. And once he gets his own hold in, he'll hulk out and bunny hop his bigger foes out over the straw. He's also sneaky good with his throws and this tournament made a few big pushers pay for trying to simply run him over. Below you can see his doggedness (and powerful calves), leading to a big win over Daishoho.
Subscribe to Sumo Stomp!
For the rest of this article, head over to Sumo Stomp! on Substack. There you'll see my grades for the impressive Hokuseiho and Hiradoumi, the so-so Onosho and disappointing Daishoho, Ryuden and Takarafuji.
And if sumo's not your bag, but you want the best MMA reporting in the world directly in your inbox, subscribe to the official Bloody Elbow Substack, too.
Join the new Bloody Elbow
Our Substack is where we feature the work of writers like Zach Arnold, John Nash and Karim Zidan. We're fighting for the sport, the fighters and the fans. Please help us by subscribing today.
---
About the author