Jump to:
The latest kerfuffle
I doubt many of you noticed, but there was a little bit of a dust up in the cozy world of MMA media last weekend.

It started when TSN's Aaron Bronsteter tweeted that:
"(Dana) White gives a media member $100 for successfully guessing that Henry Cejudo called him and offered to fight O'Malley in August. White says that Sterling is "one of those guys who can't get out of his own way" But White says the fight with Sterling and O'Malley is on."
So apparently Bronsteter felt that a "media member" taking money from UFC boss Dana White was newsworthy.

I'd agree. It's a deed every journalism school on the planet condemns in blanket terms. I grew up under Boomer reporters who regarded taking a free cold fajita buffet lunch from somebody they wrote about as anathema.
This is the Bloody Elbow newsletter. It's for passionate fight fans who've had enough with MMA media as usual.
That triggered NY Post reporter Scott Fontana into tweeting "Which media member took a Benjamin from Dana. Out yourself."

Immediately, Amy Kaplan who writes for FansidedMMA replied, "It was me. I'm the 'media member.'"

Her reply led to the following back and forth: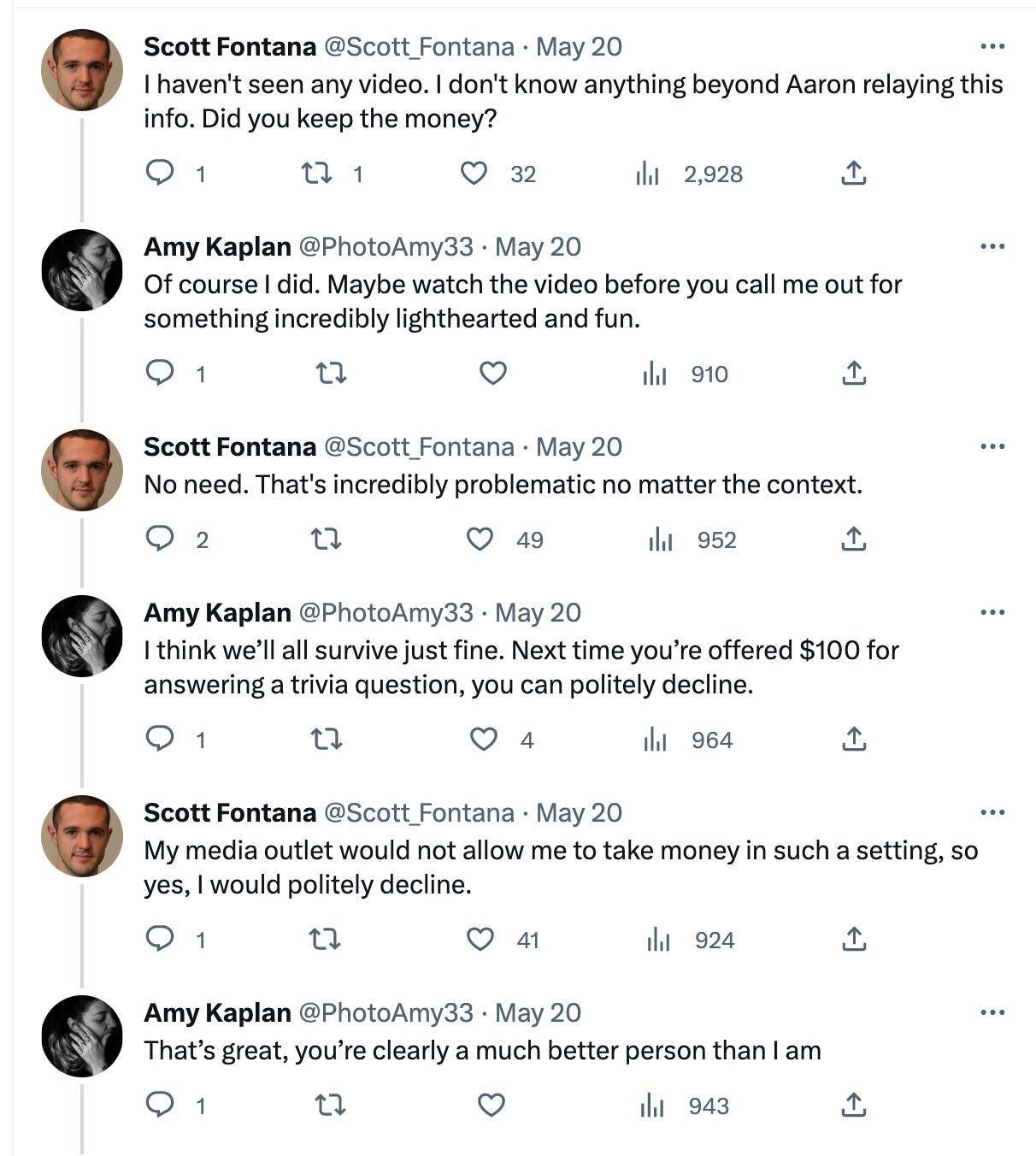 If you can't see the image the money shot is Fontana saying, "I didn't invent the standards. I was taught them in college journalism courses, and had them enforced at every media outlet I have ever worked. But that's good to know about FanSided. Thanks for the insight."
My thoughts on 'MMA Media'
I took to Twitter myself to state the Bloody Elbow position:
"I'd happily take $100 from Dana White in public. I don't think that's a violation of journalistic ethics. I'm guessing less than 5% of the "MMAJA" has read @jayrosen_nyu on "the view from nowhere" and the importance of disclosure above all. She disclosed it. It's ok.
"Ask anyone who's ever worked for me, if they got offered some cool swag from a promoter or whatever, I just said "ok but disclose it publicly" In future we'll be (hopefully) featuring sponsored posts by promotions etc. They can buy some space on our web site.
"But ask anybody who's ever worked for me: You can't buy our coverage. And that's why my people don't get offered the real payoff in this industry: access in return for favorable coverage."
Bloody Elbow alum Jonathan Snowden had more to add in his thoughtful piece "MMA Media Ethics: Are Reporters on The Take?"
Like many of my peers, I've been fully indoctrinated and have a visceral, gut reaction to seeing journalists serve as a PR branch of the events and athletes they are supposedly reporting on. But I'm also a critical thinker—some might say provocateur or shit-stirrer—and I wonder what makes some behavior ethical while other, seemingly more profitable graft, exists completely in the realm of acceptability?

Here's an example from my own life—I've sat in valuable floor seats at dozens of events over the years. Hundreds. The cumulative value of those tickets is in the six-figures, especially when you start factoring in what it would have cost to attend an event like Mayweather-McGregor where I was sitting (more than my mortgage payment for a year)! I've eaten finely catered meals, played Top Golf and received plenty of lucrative job opportunities based merely on my proximity to decision makers in combat sports.

…

Dig a little beneath the surface and the picture somehow gets even murkier. For years, at SBNation and then Bleacher Report, I watched the fierce competition between outlets for ad campaigns targeted at UFC fans. Often this ad money came from a company UFC was doing business with and the promotion (allegedly) had a hand in deciding who received the largess.

Think about this for a second.

A journalist offered a hotel room by Dana White is, by most accounts, violating ethical standards. But a media outlet paying for a hotel room with money coming directly or indirectly from a fight promotion through ad money? That's just capitalism baby!
Let's not forget that it was long an open rumor that USA Today provided extremely favorable UFC coverage in return for ad buys. Deadspin's Kevin Draper wrote this up in 2015:
Within mixed martial arts circles, it has long been taken as a given that the UFC pays USA Today for coverage. As the rumor goes, the UFC buys advertising from USA Today with the tacit understanding that USA Today will cover the sport, and do so favorably.

To be clear, the actual evidence for a media ethics scandal here has always been highly circumstantial, which is why we've never written about it. It's true that MMA Junkie runs broadly positive coverage, and treats some important subjects—like efforts to unionize the sport—with kid gloves. But that's not unusual. The UFC is much more hostile to the press than almost any other major promotional body in sports, and while part of this is just UFC figurehead Dana White's pugnacious personality, it also has to do with the nature of the sport, which is highly centralized, making it much easier to control media access.

To stay on White's good side, some sites go so far as to brainstorm lists of topics not to write about so as to avoid incurring his wrath, such as financials. That doesn't mean they're all on the payroll. (It should be noted here that Deadspin is blacklisted by the UFC.)

Even so, there have always been things that make you scratch your head. Why would MMA Junkie send writers to cover boring third-tier fights in far-flung locales, for instance? Who has the budget to do that, and why would they choose to spend their resources that way absent some hidden motivator? This is the sort of thing that comes up in inside-fight circles when this subject is discussed.

Anyway, we're writing about this now because among a barrage of angry tweets White sent out over the past two days was this one, seemingly confirming the whispered accusations: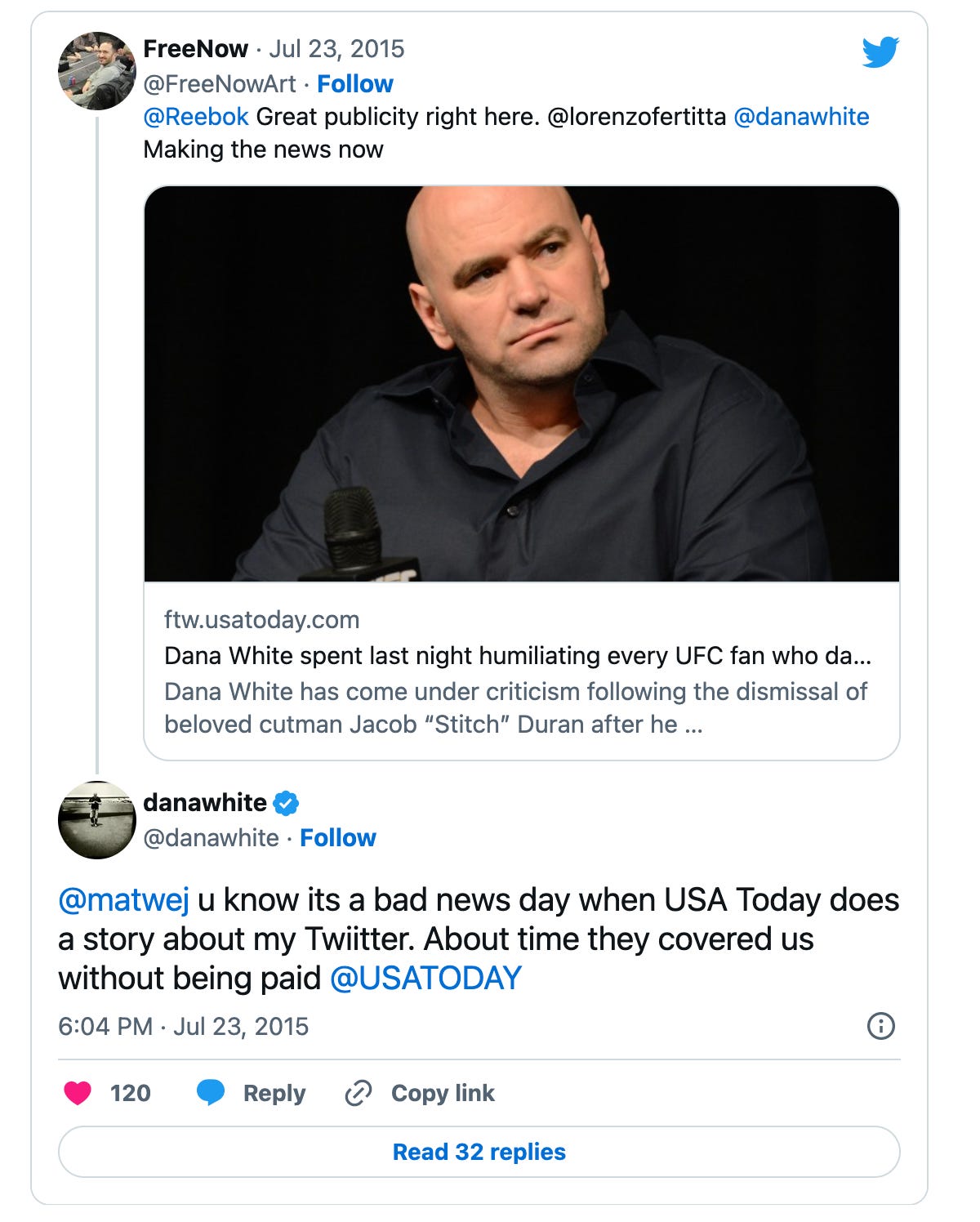 All of this is just by way of saying, MMA journalists getting worked up over Amy Kaplan and the $100 she took from Dana White is the definition of trivial pursuits.
At Bloody Elbow, we've fought hard to earn our reputation for honest coverage of the UFC. But I have to admit that we buried many stories over the years due to conflicts of interest rising from being owned by Vox Media and MMA Fighting and Ariel Helwani's relationship with Dana White.
Those days are over and I am already working on getting some of those stories to light.
Join the new Bloody Elbow
Our Substack is where we feature the work of writers like Zach Arnold, John Nash and Karim Zidan. We're fighting for the sport, the fighters and the fans. Please help us by subscribing today.
---
About the author