Zane, Connor, and Phil are back to watch TORTUROUS MMA right by your side online!
Table of Contents
The MMA Depressed-us returns for Ep. 76
Are you ready for some torturously bad fights, fellow MMA masochists?
We have made some changes to the Bloody Elbow Podcast Network Production Schedule, and have decided for now, this will be our last 'non-event week' of podcast coverage.
But don't panic… The MMA Depressed-us gang are safe. Because we plan to eventually bring you an MMA Depressed-us episode as often as once a month — as part of our regular rotation, not just when the UFC takes a break in their calendar!
For this episode, your triple threat team are watching three of the "best worst fights" out of the recent line up. Two of these three are by no definition the best of anything actually. But that is what we do, what torturous fights and terrible MMA movies just for your entertainment.
"We're giving you two stinkers and one instantly bad classic. A balanced diet — like a salad with no dressing and just a bucket of pork rinds, basically"… "Or like chomping on raw kale and following it up with the cooking grease from a burger."

Connor Ruebusch & Zane Simon
Bout One
We start off this episode with a fight that made us all angry, because we all pretty much liked the fighter involved and thought she would give us some good fights. 'Karol Rosa vs Norma Dumont' from UFC Fight Night: Pavlovich vs. Blaydes, which occured on April 22nd., 2023.
Bout Two
To follow that up, we have the fight that this show was made for, 'Muhammad Usman vs. Junior Tafa', from that same Fight Night card, 'Pavlovich vs. Blaydes'.
Bout Three
We wrap up the episode with one of those fights you would think should have been exciting, but then it absolutely wasn't: 'Cody Garbrandt vs. Trevin Jones' from UFC 285. If you don't want to subject yourself to the fight, just pause your stream, and listen to the guys discuss Garbrandt's sideburn tattoos, Jones' back piece, Masvidal's latest ink, and more fun tidbits of MMA banter.
The MMA Depressed-us Podcast on the Bloody Elbow Podcast Substack Network is a 100% listener-financed broadcast. To receive emails when each new episode drops and support our work, consider becoming a paid subscriber.

~ Bloody Elbow Podcast Team
Where to watch
As is not usually the case with the show, we're watching all bouts on ESPN+, instead of UFC Fight Pass. For those that wish to watch along with us, start each video at the beginning when Zane says, "3, 2, 1, go!" If you're watching these videos on another platform, Connor will try to announce the start the beginning of Round 1, so you can sync up with us from there.
Substack Bonus Content Podcast
In case you were not already aware, when it was determined it was time to bring the MMA Depressed-us back from Patreon, we put it behind the Substack paywall. For those of you who are currently free subscribers or listening to us on another podcast platform you will get about a ten minute glimpse into the hilarity of the show. For those of you listeners pledging your support to keep our Podcast Network alive and support our team, you will be treated to the entire 1:22:32 run time for this episode.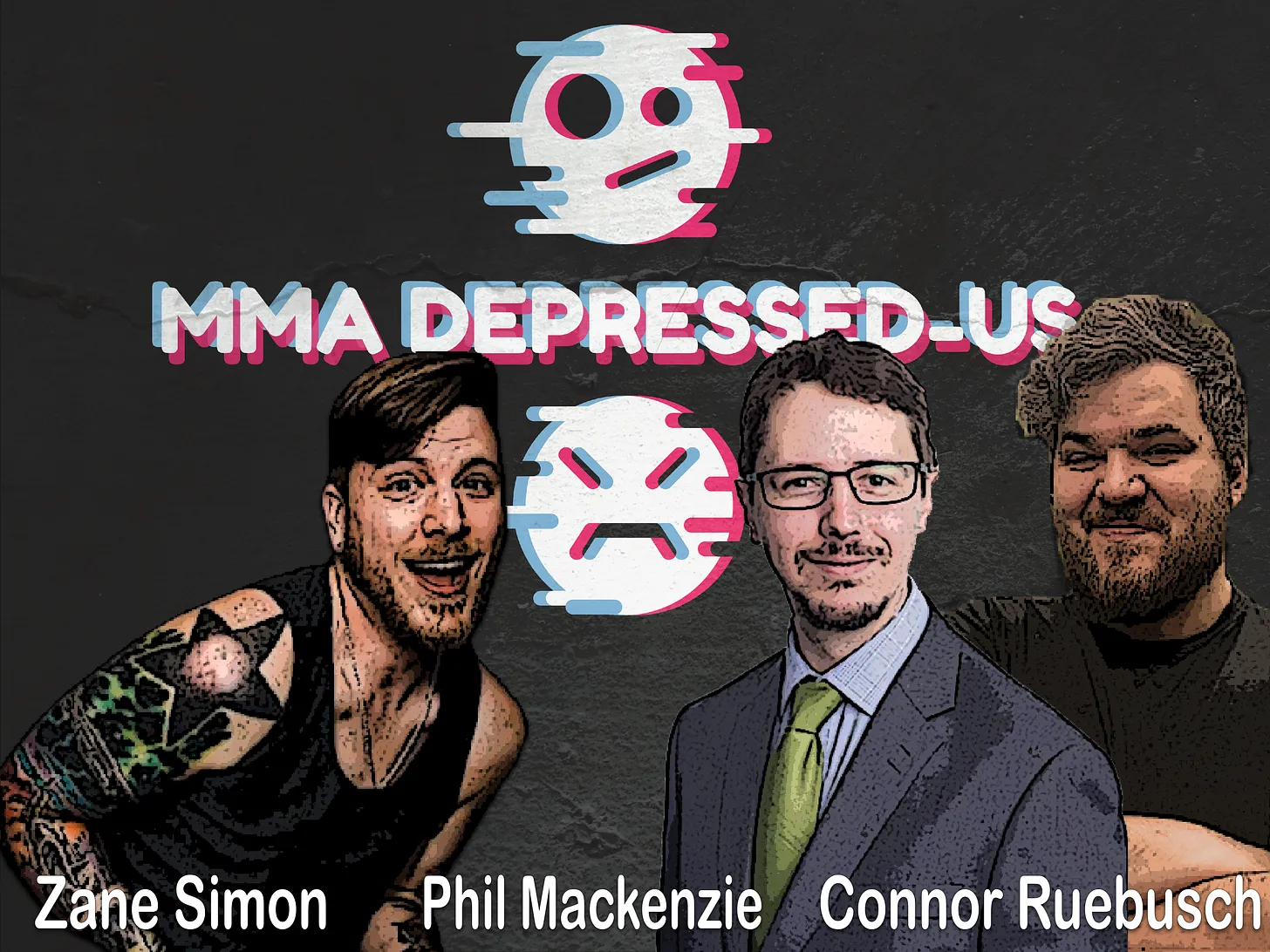 Our Podcasts Have a New Home
Bloody Elbow Podcasts on Substack is your place for all the BE shows you love, like 'The 6th Round Post-Fight Show', 'The MMA Vivisections', 'The MMA Depressed-Us', 'The MMA Bunker', 'MMA Tête-À-Tête', 'The Level Change Podcast', 'The Hey Not The Face! Podcast', and more.
Our BE Podcast Network is 100% listener-supported, meaning paid subscriptions help make sure these shows continue to run. So, please support our team by joining us for bonus content and bonus podcasts on Substack today.
Other Places to Find Our Shows
If you enjoy our variety of shows, please give us a shout out in the comments here on Bloody Elbow. Thank you for tuning in to this Bloody Elbow Podcast Network Production. Subscribe at BloodyElbowPodcastSubstack.com; give us your email and receive instant notifications when your favorite shows drop – directly into your inbox.
In addition to our Substack, you can still find our shows on the following platforms: AMAZON MUSIC, AntennaPod, Apple Podcasts, audible, Castaway/Castaway2, Castbox, Chartable, DownCast, Google Podcasts, iCatcher!, iHeartRadio, iVoox, Listen Notes, Luminary Podcasts, MOON.FM, MMApodcast, Muck Rack, Overcast, Pandora, PlayerFM, PlayPodcast.net, Pocket Casts, PodbayFM, PodBean, Podcast Addict, Podcast App, Podcast Republic, Podchaser, Podkicker Pro, Podtail, Podvine, RSS Radio, Simplecast, SoundCloud, Spotify, Stitcher, Substack, ThisMMALife, & TuneIn!
Follow Us
Follow Zane @TheZaneSimon, Connor @BoxingBusch, & Phil @EvilGregJackson, while you're at it follow us as @BloodyElbow on twitter, facebook, instagram, and at BloodyElbow.Substack.com & BloodyElbowPodcast.Substack.com. Thanks for Listening!
Catch a glimpse of the show on our SoundCloud
---
About the author