Jump to
UFC Fight Night: Holloway vs. Allen (also known as UFC on ESPN 44) took place on April 15, 2023, at the T-Mobile Center in Kansas City, MO, and was headlined by a featherweight bout between former UFC Featherweight Champion Max Holloway and Arnold Allen.

Before we start analyzing techniques here are some notes about the event:
A highlight of this card was Edson Barboza and Brandon Royval offering some amazing wins via knee strikes. It was a great reminder of the importance of knees in the MMA game. When it comes to fighting, the knee is the hardest strike that a fighter can land. To use a Thai-boxing phrase, elbows are knives (used to cut) and knees are hammers.
I really enjoyed watching Edson Barboza fight. The Brazilian is a good kicker but not a good boxer. He fights tall and does not use head movement when he punches. His kicking game, though? That's out of this world. When he lands, his kicks sound like a baseball bat.
The main event was rather entertaining for a five round decision win. Max Holloway is a great fighter because he is both technical and mentally tough. To quote Babe Ruth, "You just can't beat the person who never gives up." And Max Holloway never does. I am a fan of his striking game and the amazing pace that he can establish for five rounds.
The only thing I don't like in his game is his switching of stances. I know that switching stances is used to confuse opponents in MMA but there is a reason why kickboxers and boxers fight from a specific stance: it is very difficult to train techniques for four stance variations. There are just too many variables to consider.
Arnold Allen on the other hand, did his part and tried to match the pace Max Holloway was bringing. The British fighter had Max Holloway fighting on the back foot much of the night, an easier task said than done. Allen's boxing is very efficient but his body kick defense is lacking. Max Holloway was able to land several big kicks to the midsection throughout their five rounds.
The main event was mostly a high paced kickboxing match and it was worth studying from a technical standpoint. We will analyze several techniques here, but keep in mind that this is not a complete fight breakdown of the card—simply an analysis of specific techniques. These techniques are successful because they rely on solid concepts of the MMA game and as such can be trained and incorporated in a fighter's arsenal. Such moves can also help MMA fans appreciate the science behind our exciting sport.
That being said let's examine how UFC fighters got the job done this past weekend at UFC Fight Night: Max Holloway vs. Arnold Allen.
Fight: Bill Algeo vs. TJ Brown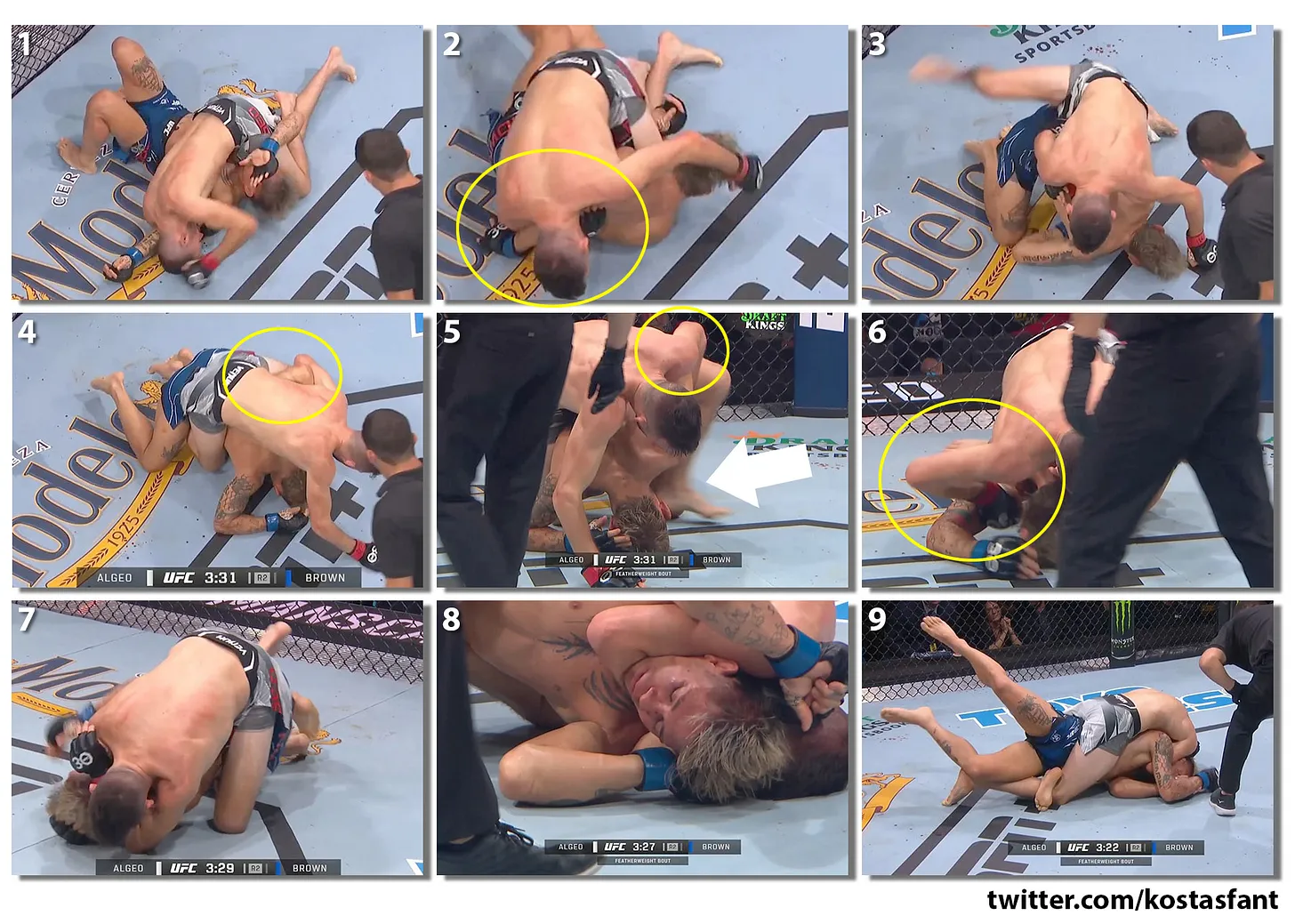 Bill Algeo drops TJ Brown and follows him to the mat, establishing the crucifix position. Brown tries to escape by rolling towards his opponent but Algeo controls Brown's left hand with an underhook. In photos #2 and #4, Brown goes to the turtle position while his left arm is still trapped behind his back by the underhook. Brown is left with only one hand to defend, which enables Algeo to insert both hooks in and get the rear naked choke for the win.
Fight: Denise Gomes vs. Bruna Brasil
An example where both fighters switch stances and land, but only one gets dropped.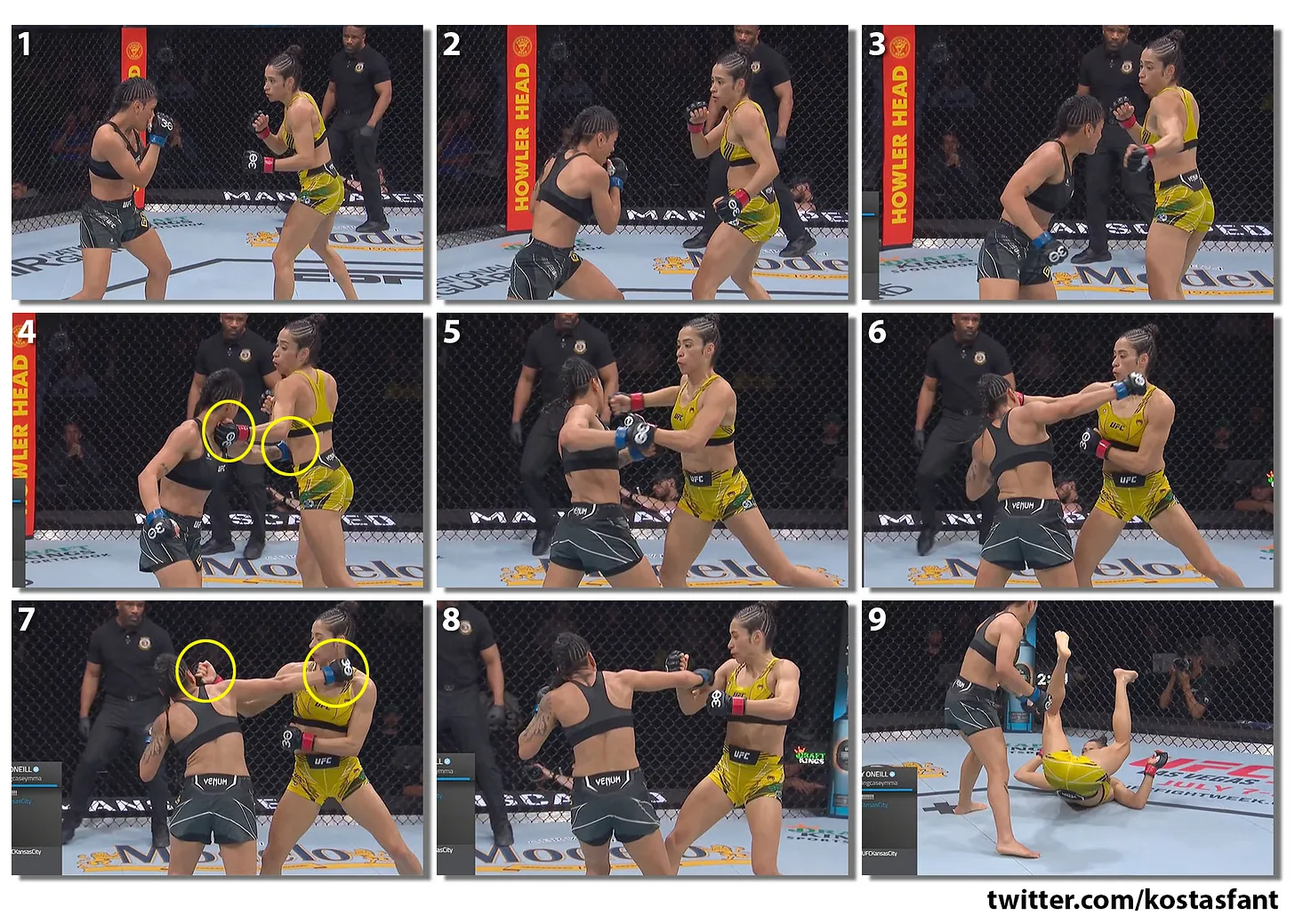 Both women start in an orthodox stance before Denise Gomes steps in with a left hook to the body and shifts to southpaw for a crushing right hand that drops her opponent. Bruna Brasil was able to connect with a left hook of her own, but missed with a followup left hook as she moved backwards to a southpaw stance, getting hit hard in the process.
Moving backwards while changing stances can leave a fighter wide open defensively. In this case, Brasil's chin was left exposed and she paid dearly for it.
Fight: Brandon Royval vs. Matheus Nicolau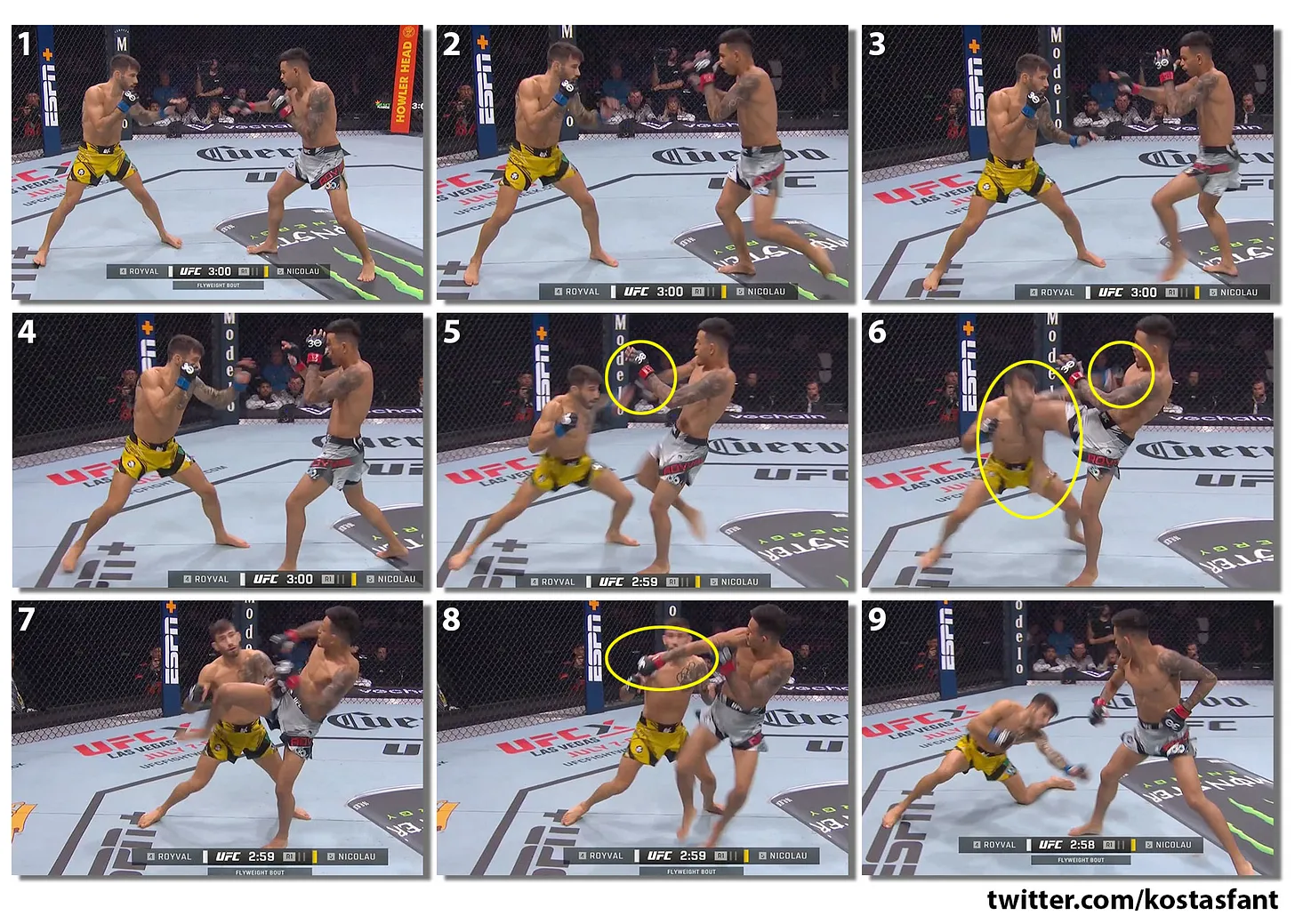 A beautiful combination. Brandon Royval starts in a southpaw stance and steps in to orthodox. Matheus Nicolau responds by dropping levels and throwing a left hook. Unfortunately for Nicolau, Royval caught him with a devastating right knee on the way in and a followup right hand on the way down. Knee strikes can do wonders against punches thrown from a crouched stance.
Fight: Edson Barboza vs. Billy Quarantillo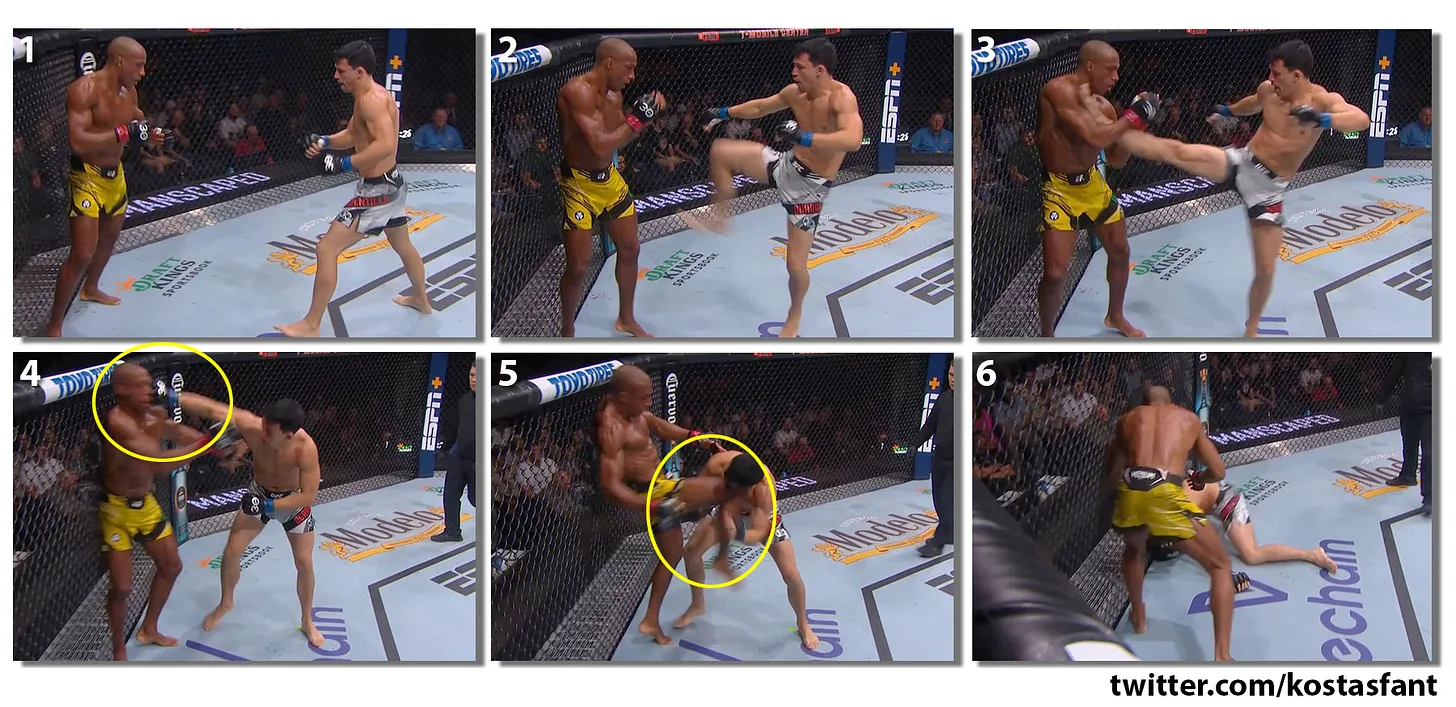 As Royval's knee wasn't entertaining enough, Edson Barboza delivered a smashing highlight all his own on Saturday. In the sequence above, Barboza has been backed up against the cage. Billy Quarantillo steps in behind a right push kick, then drops levels to connect with an overhand right. Barbosa responds by throwing a vicious right knee that knocks Quarantillo out cold. See photo #4, how Quarantillo's head is exposed. Generally, when throwing overhands, fighters need to get their head moving to a safe angle, rather than dropping levels in front of their opponent's knee. Again, both fighters connected, but only one hit the mat.
Fight: Ion Cuțelaba vs. Tanner Boser
Technique #1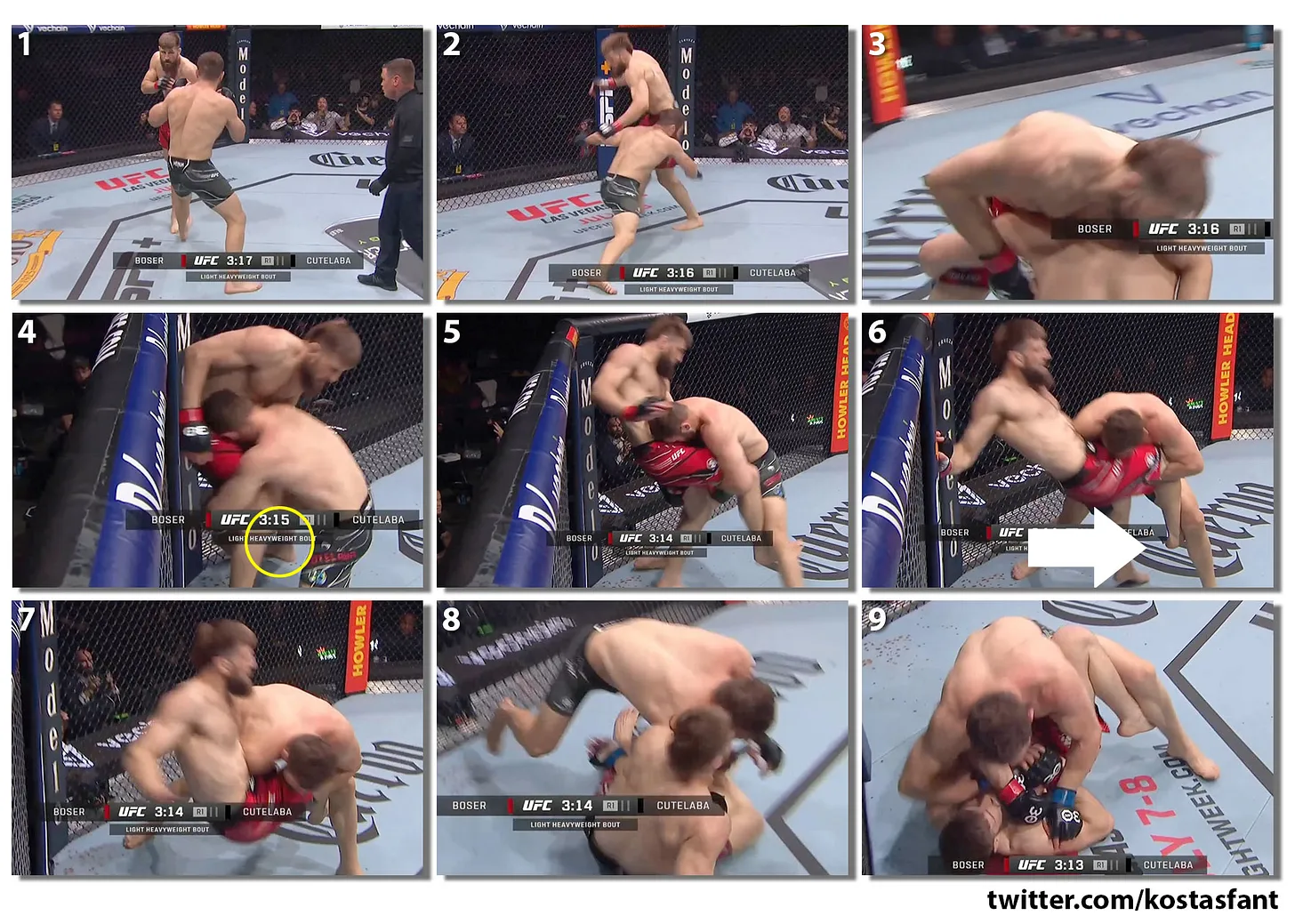 Ion Cuțelaba ducks under an incoming jab and grabs Tanner Boser's feet. Cuțelaba keeps driving and stepping in, forcing his opponent's back against the cage. Ion steps his right foot to the side (photo #4) and pull his opponents feet backwards and towards the floor (photo #6). Cuțelaba is thus able to get his opponent down. This was a very explosive takedown without using set-up punches. A risky maneuver, as such takedowns can be dangerous, especially with fighters throwing knees in response to the shot.
Technique #2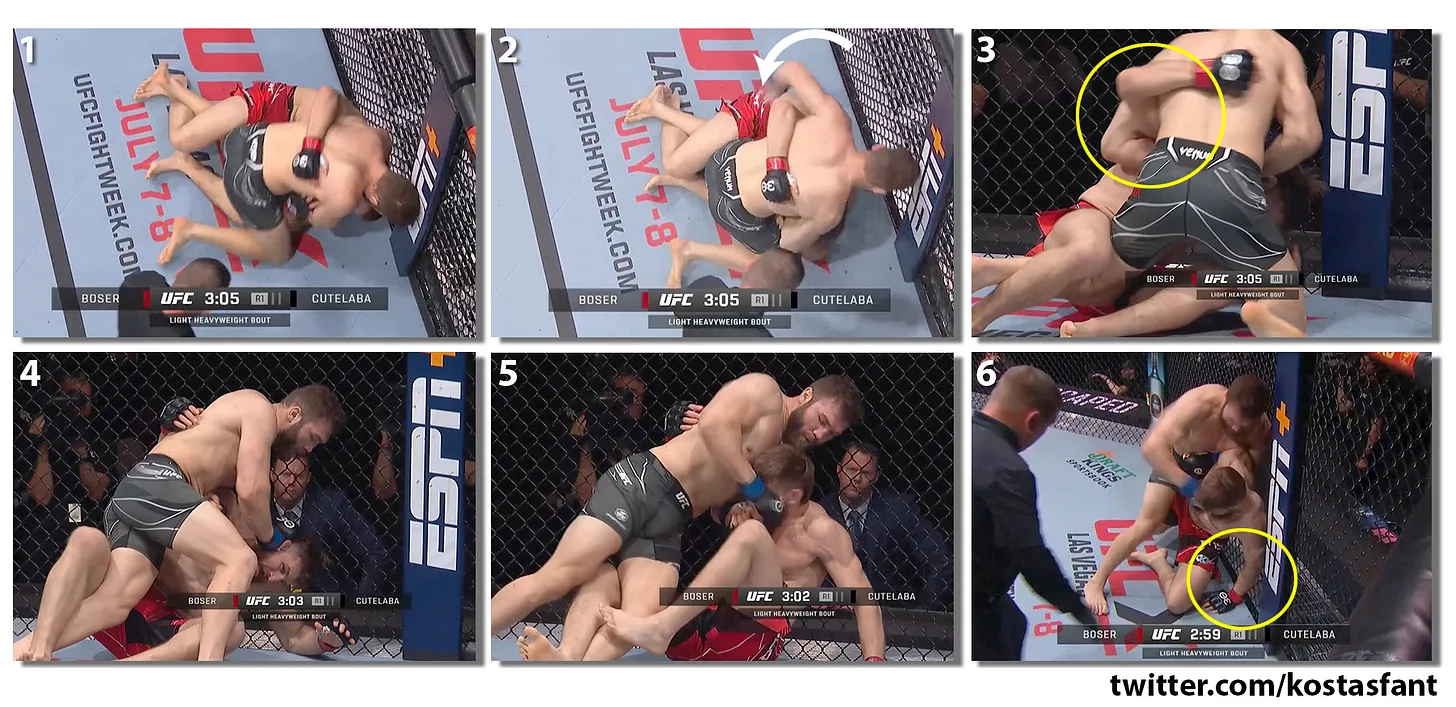 Following the takedown analyzed above, Ion Cuțelaba found himself on top in Tanner Boser's half guard. As can be seen in photo #2 Boser has an underhook, tries to stand up and Cuțelaba gets an overhook. Boser posts his left hand on the floor, and thus cannot defend his head from incoming punches (photo #6). Cuțelaba capitalizes on the position and lands several right hand punches. The referee steps in and stops the fight. This is a great position to land punches against a defenseless opponent.
Main Event: Max Holloway vs. Arnold Allen
Technique #1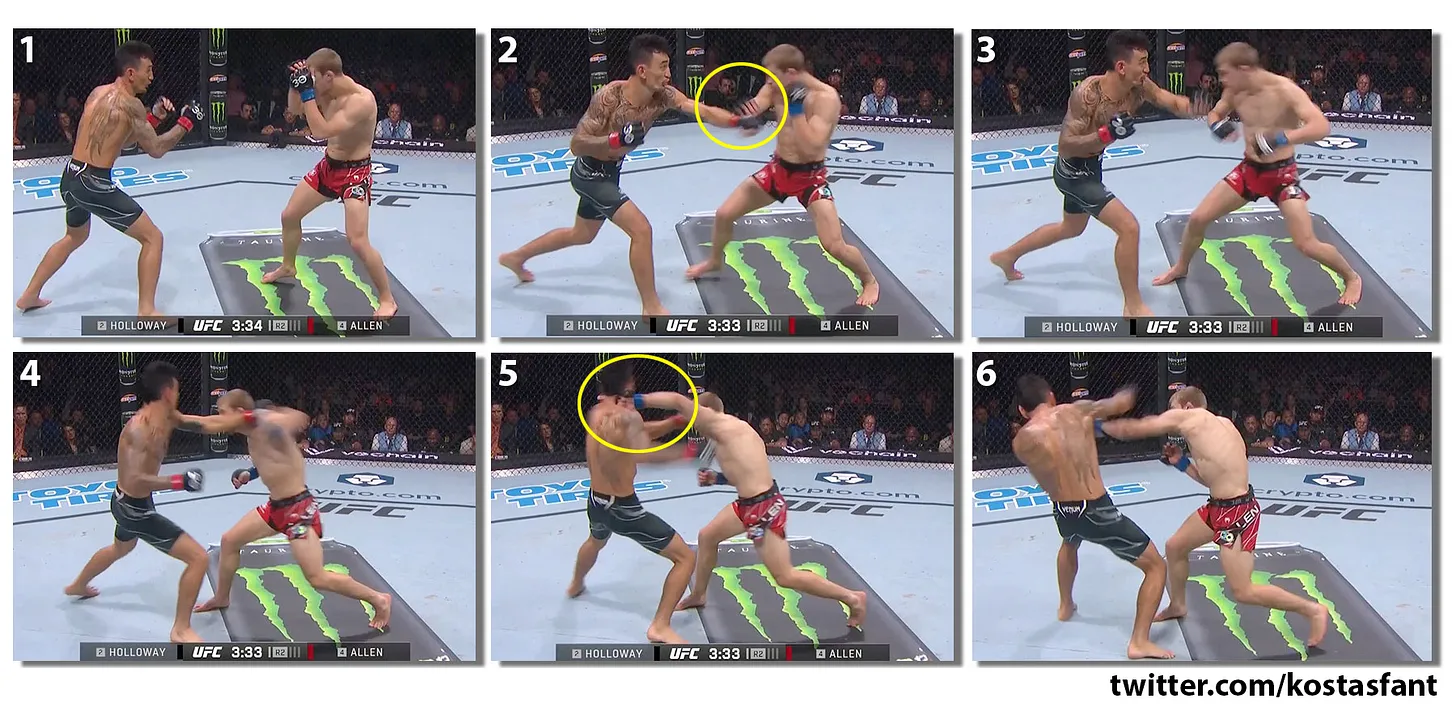 Both opponents are in a southpaw stance when Max Holloway throws a lead right hand. Allen checks the hand by pushing it down and throws a left hand that lands clean. As can be seen in photo #5, Allen is in proper posture and his chin is not exposed. Holloway throws a right hook but Allen's chin is nowhere to be found. I know that I keep repeating myself but lead right hands mostly only worked for the great Muhammad Ali. All other fighters should avoid using them.
Technique #2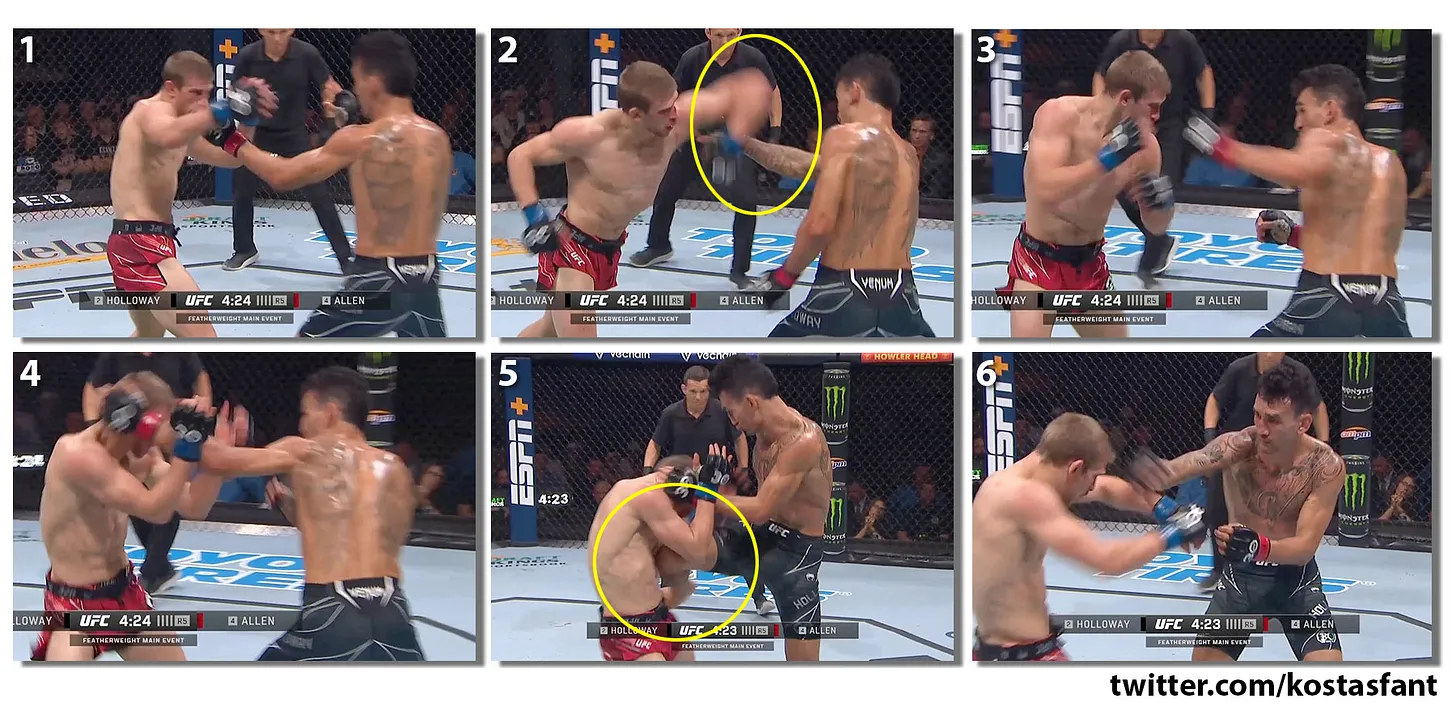 Allen is in a southpaw stance and throws a lead left floating elbow. He misses and steps in. The shift leaves Allen temporarily off balance. Max Holloway seizes on the moment to get the clinch and land a beautiful right knee to the body.
Technique #3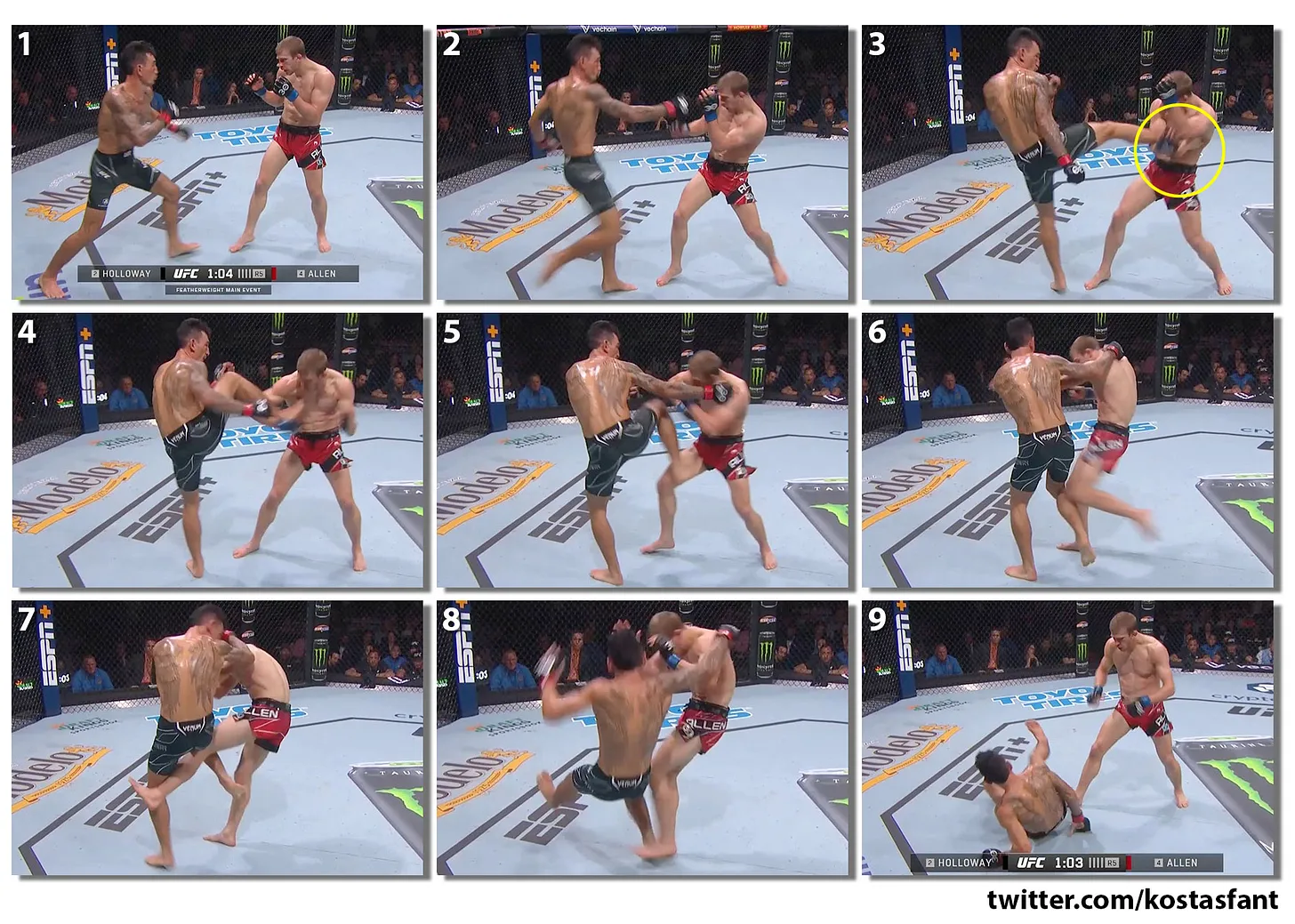 Max Holloway was able to land several body kicks throughout the fight but Allen was also able to catch some of them. In the sequence above Max Holloway connects with a right kick to the body but Arnold is able to grab Holloway's foot on the way down. Allen throws a left low kick/sweep and throws Holloway to the ground. This was beautifully executed by Allen.
Technique #4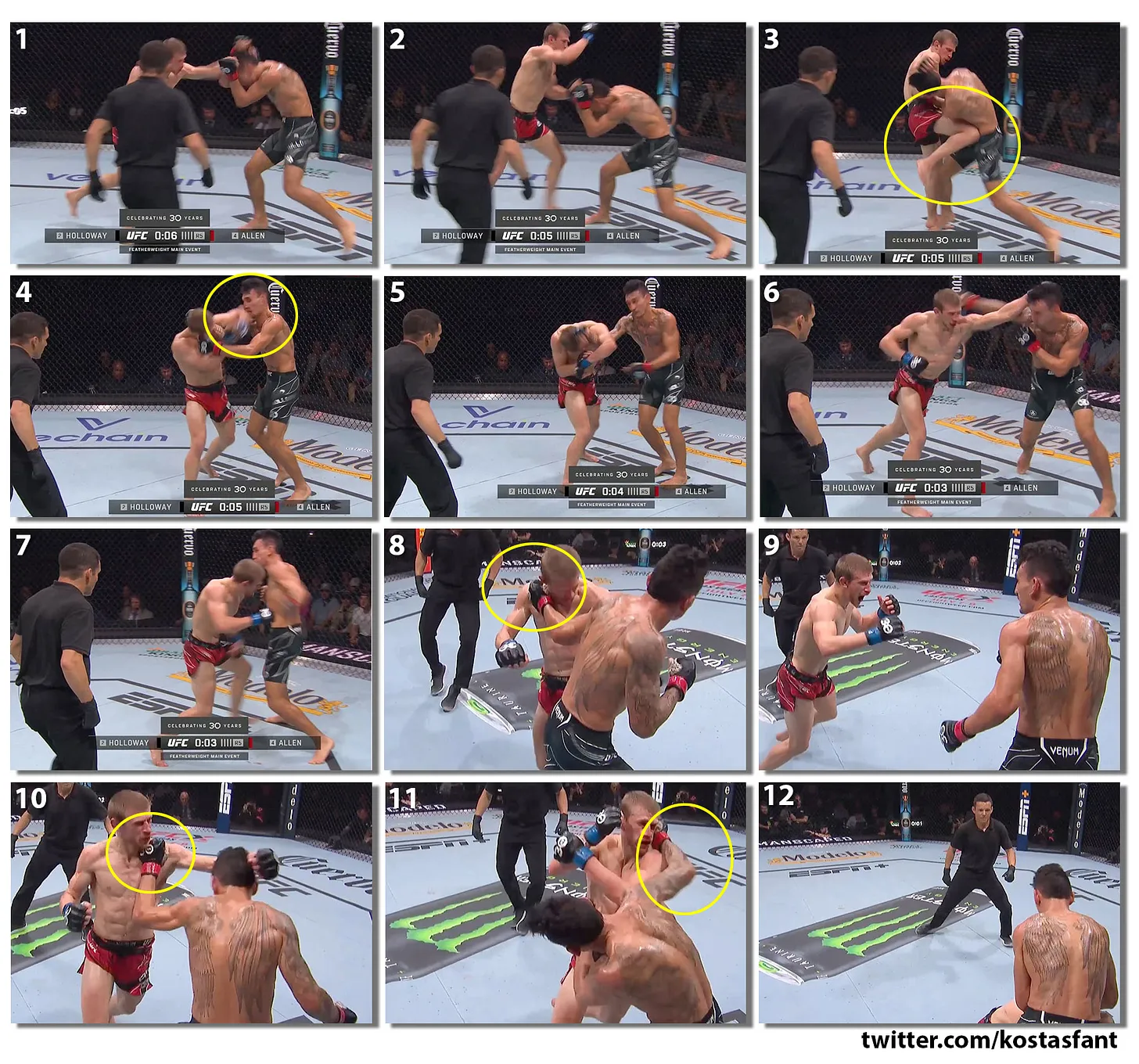 Allen attacks with a right jab to a left hand. As Max Holloway ducks under the punch, Allen lands a right knee and a left elbow (photos #3 and #4). Holloway pulls back. Allen throws a fake jab to a left hand and Holloway throws a right hand. Allen is off balanced and Holloway lands a left hook that stuns his opponent (photo #8). Allen rushes in with his hands down and chin up and gets dropped by a left hook (photo #10) and a right hand (photo #11). The final bell rings to signal an end to the action.
Final Thoughts
This was a rather mediocre event as far as MMA action was concerned but the main event was quite entertaining. Although Arnold Allen did his best to beat Max Holloway, the former champ was just too experienced in five round fights and he was able to outpoint Allen.
Although Allen lost, putting pressure on Max Holloway like that is quite a feather in his cap. I believe that he needs to mix in some wrestling in his attacks as this will help him keep opponents guessing and open up more opportunities to land strikes.
In conclusion, I enjoyed the main event and would like to see both fighters back in action. See you next week with another breakdown.
---
About the author