Table of Contents
UFC 287: Pereira vs. Adesanya 2 took place this past weekend on April 8, 2023, at the Kaseya Center in Miami, FL featuring a highly anticipated middleweight Championship rematch between champion Alex Pereira and former champion Israel Adesanya. The main event did not fail to deliver. Combat sports history is all about great rivalries and the one between Pereira and Adesanya is as good as it gets in MMA.
Alex Pereira (also former Glory middleweight and light heavyweight champion) put the heat on through much of the first two rounds at UFC 287 by methodically chopping at Adesanya's legs. The challenger stood his ground and fired back more than he did in their last meeting. Pereira was getting the better of the exchanges and went for the kill, looking to finish a seemingly hurt Adesanya.
The "Last Stylebender" unleashed a right hand from hell that landed flush. Pereira was rocked and left on wobbly legs. Israel sealed the deal with a follow-up right which dropped the Brazilian on the canvas out cold.
The Nigerian-born, Auckland-based phenom, got his revenge at UFC 287 and reclaimed his middleweight title in style.
I really enjoyed several fights of this event, especially Kelvin Gastelum vs. Chris Curtis. This was a technical brawl featuring two fighters that combine skill, power and toughness.
Luana Pinheiro vs. Michelle Waterson-Gomez was also very entertaining. The 'Karate Hottie' is a very technical fighter that, unfortunately for her, lacks finishing power. She had her hands full against a tough-as-nails Luana Pinheiro.
Other fights on UFC 287 that offered both entertaining and technical highlights were Steve Garcia vs. Shayilan Nuerdanbieke and Kevin Holland vs. Santiago Ponzinibbio.
The co-main event between Gilbert Burns and Jorge Masvidal delivered a one-sided beatdown of Masvidal as expected. Burns is a talented fighter showcasing a diverse skillset and very hard to beat in his division.
There were no submission wins during this event but from a striking standpoint there were more than 70 techniques worth analyzing. Sadly, there's only room for nine in this post. It's not a complete fight breakdown of the card, but an analysis of the most interesting moments. These techniques are successful because they rely on solid concepts of the MMA game and as such can be trained and incorporated in a fighter's arsenal. Such moves can also help MMA fans appreciate the science behind our exciting sport.
Those readers that follow my work know I love 'stop-hits', back fists and 'Bruce-Lee-type' moves. This event had all of them. That being said let's examine how UFC fighters got the job done this past weekend. This is UFC 287: Moves to remember.
UFC 287 part one: Stop-hits
A 'stop-hit' is a type of a counterstrike. It focuses on striking opponents when they initiate their attacks, thus catching them mid-flight. In order to land stop-hits, a fighter needs to use a 'one-breath' decisive strike with full force and 'kime' ( power and focus), using instantaneous tensing at the correct moment. Stop-hit moves were made famous by Bruce Lee both in his movies and instructional books alike. Here are some examples of stop-hits used in this event:
Fight: Steve Garcia vs. Shayilan Nuerdanbieke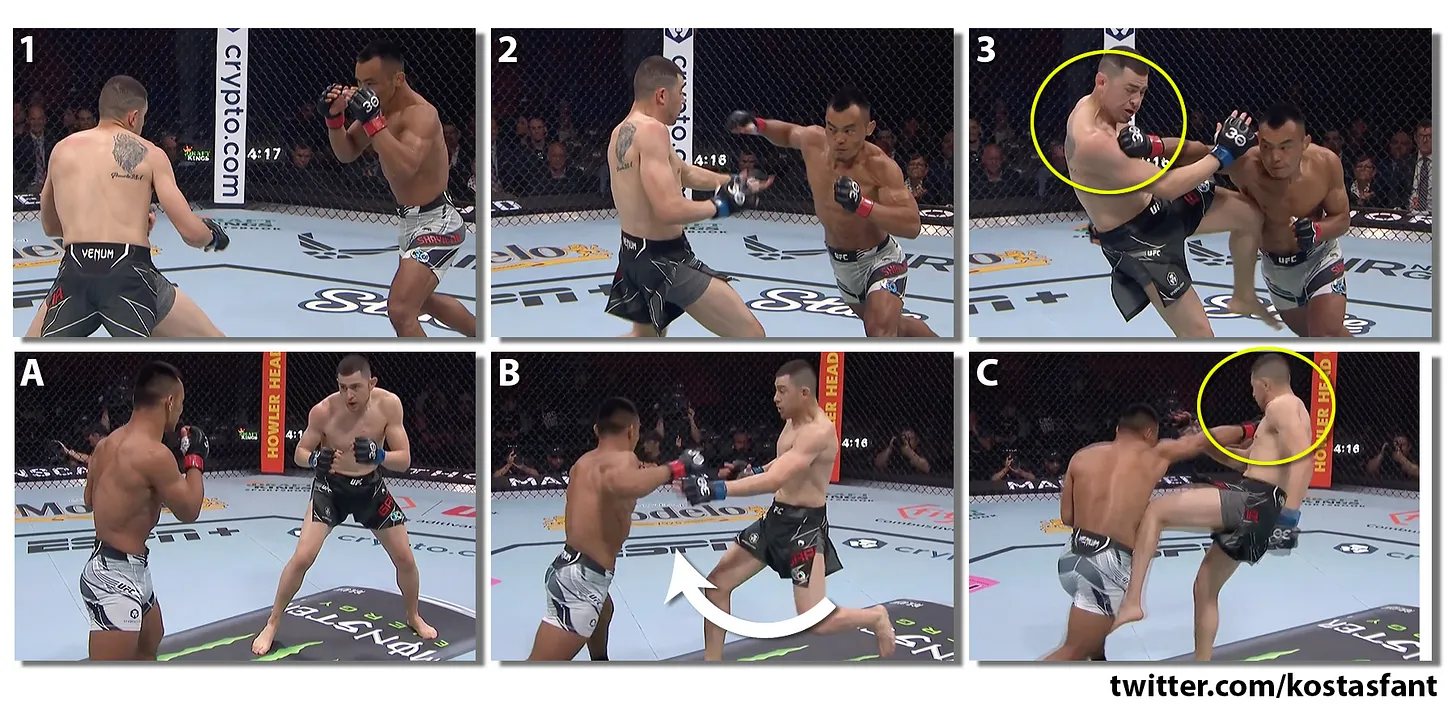 In the example above, Steve Garcia is in a southpaw stance and tries to launch a right kick with the back foot against his opponent—who is in an orthodox stance. This was probably intended as a low kick and something I'd advise against, especially when used without hiding the kick behind set-up punches. It is easy to see the kick coming and thus counter it. Shayilan Nuerdanbieke uses a straight right hand and stops his opponent before he is able to finish the kick. This punch was beautifully executed.
Fight: Luana Pinheiro vs. Michelle Waterson-Gomez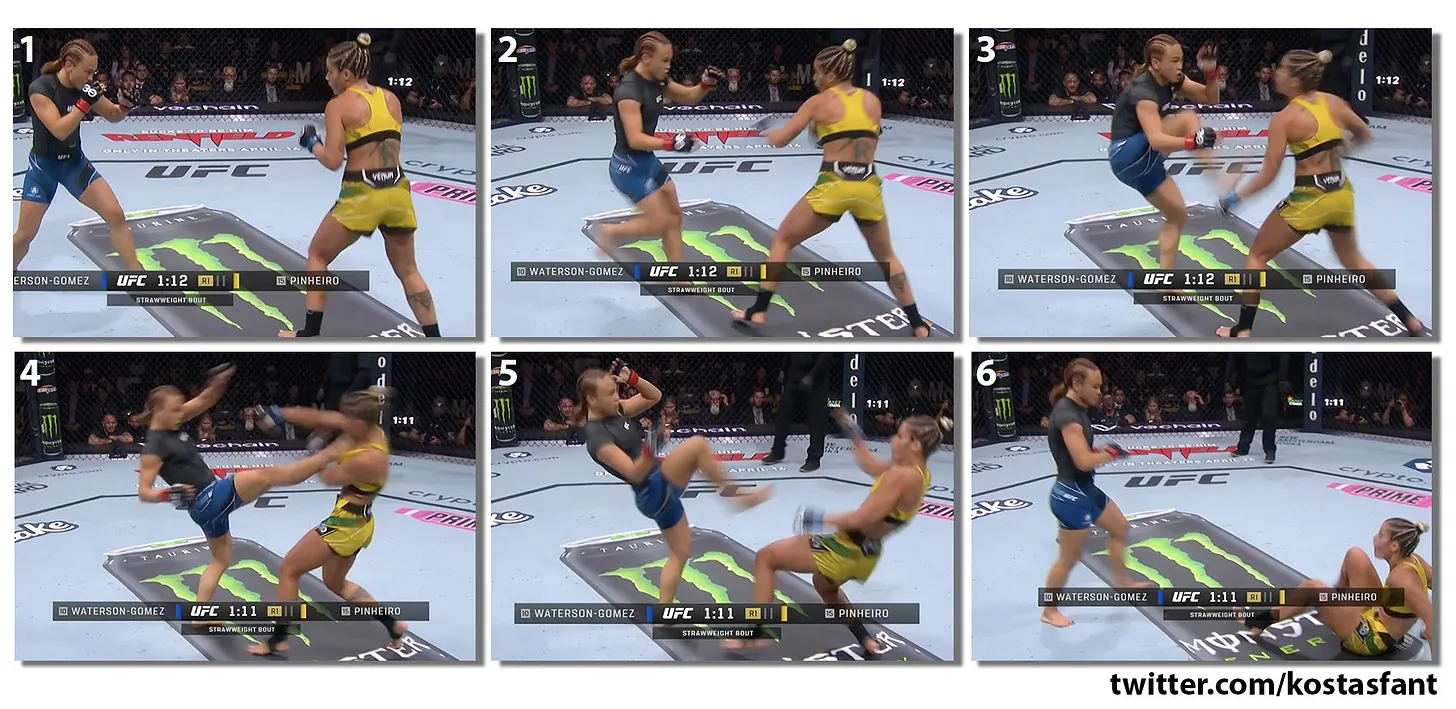 Here's another great stop-hit example from UFC 287. Luana Pinheiro is about to attack with a lead right hand—also not a great way to initiate offense, as it is easy for the opponent to see a lead back hand coming. Michelle Waterson-Gomez launches a right push-kick with the back foot and lands on Pinheiro's neck/chin thus pushing her back and dropping her on the ground.
Fight: Kelvin Gastelum vs. Chris Curtis
Technique #1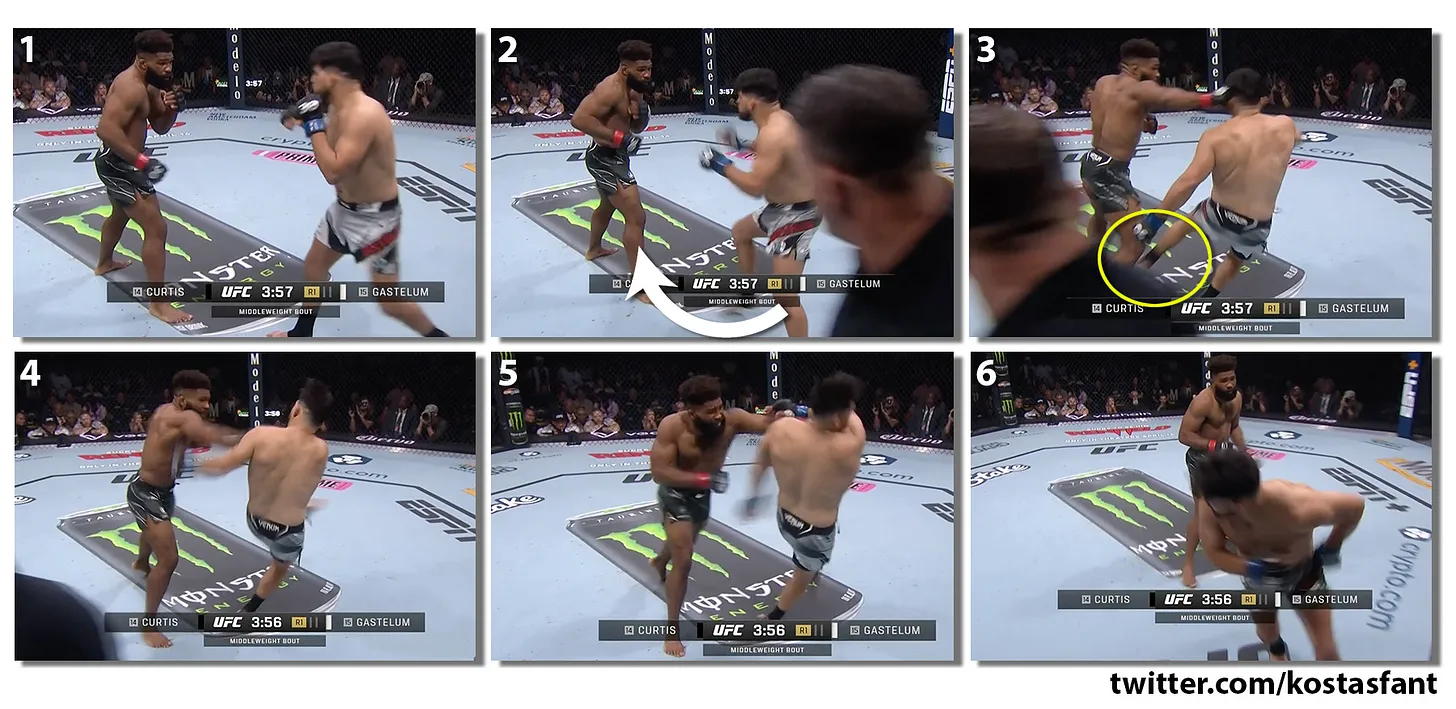 Both fighters are in a southpaw stance. Kelvin Gastelum tries to attack with a left low kick and Chris Curtis stops him 'mid-flight with a stiff right hand followed by a powerful left cross that send Gastelum spinning.
Technique #2: Jab to a stop-hit left hand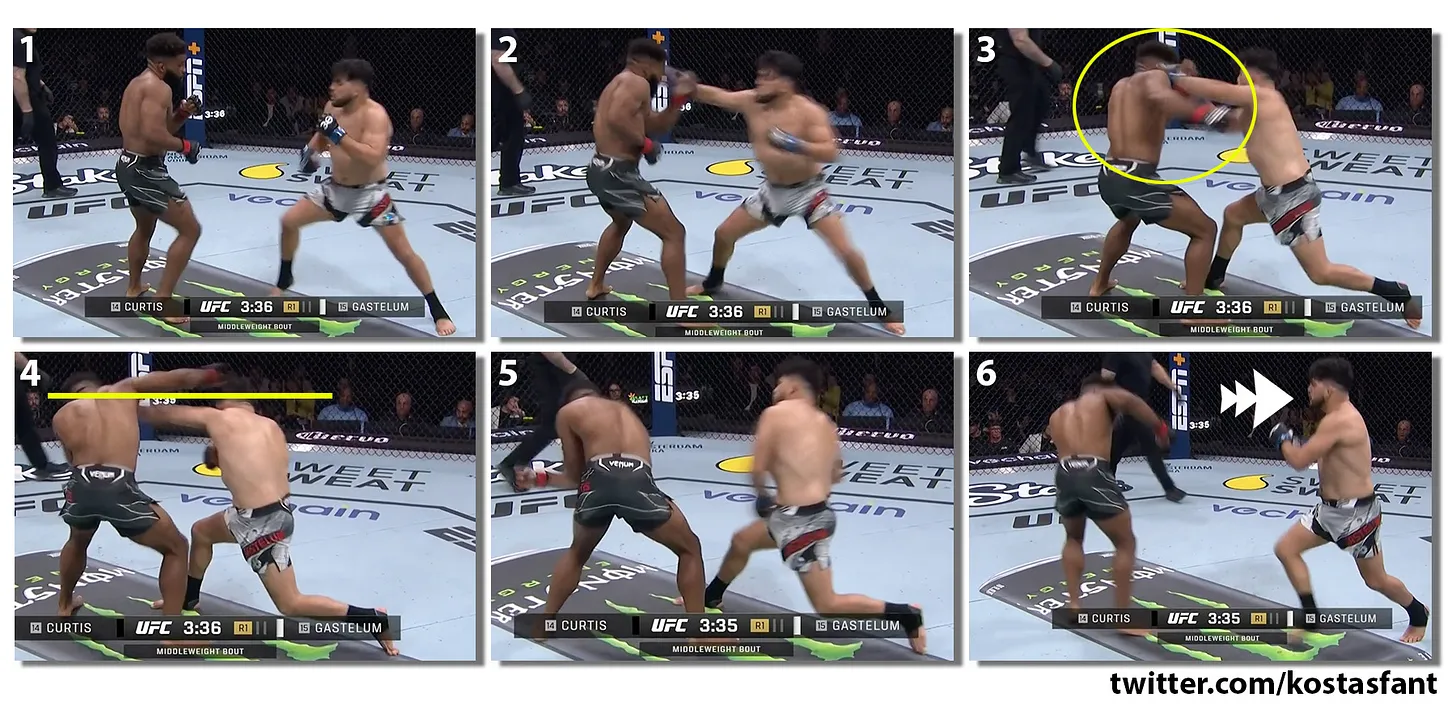 This is another interesting exchange. Kelvin Gastelum throws a right jab and follows up with a strong left cross. The combo catches Chris Curtis trying to attack with a lead right hook of his own and pushes him back, thus making him miss. In photo #4 Gastelum uses perfect form by engaging his hips and lowering his level, before pulling back to keep himself out of reach (photo #6)
UFC 287 part two: A great takedown
Fight: Gilbert Burns vs. Jorge Masvidal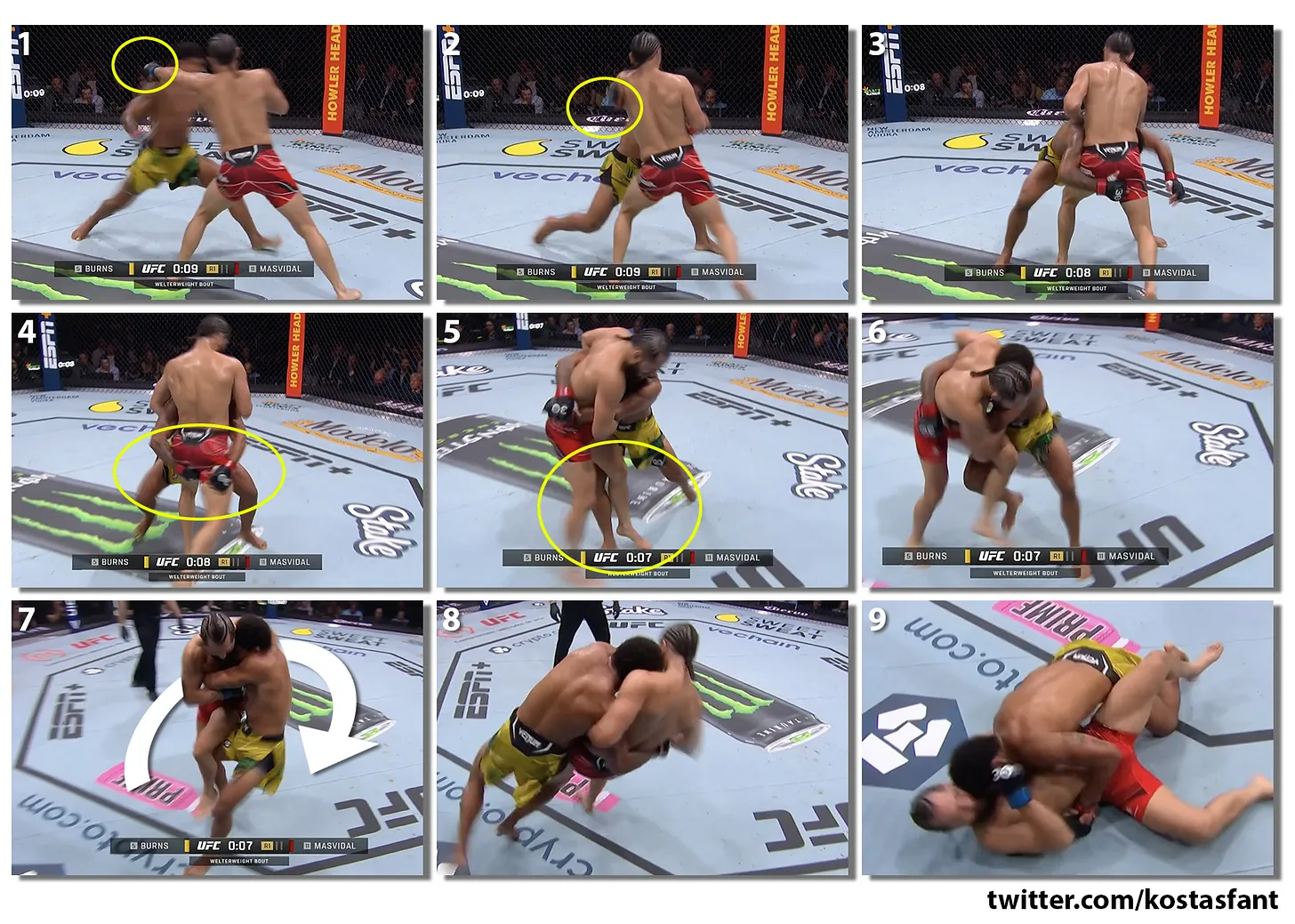 Jorge Masvidal throws a jab and Gilbert Burns slips left and throws a right hook to the body in order to establish a connection. Burns rushes forward changing levels and connects his hands around Masvidal's waist. In photo #5 you can see how Burns places his right foot behind Masvidal's thighs thus preventing him from stepping back. Burns turns right in a swift motion and drags his opponent to the ground.
This is MMA and not wrestling. Fighters need to hide takedowns behind punches in order to initiate them and finish them.
---
Read the rest of this article on Bloody Elbow's Substack
---
About the author