After their high profile $21 billion merger, more figures from WWE and UFC finances have been disclosed.
In 2022, we already know that the MMA world leader posted their "best financial year for the fourth consecutive year," with a number of records broken including revenue, sponsorships, consumer products, and a lot more.
This had to do with lucrative ESPN deal, along with renewal of several international media rights deals in 2022. Lucrative site fees from events in Singapore, Perth, Abu Dhabi and Utah were also highlighted for bringing in revenue for the year.
Let's take a look at the specifics they just disclosed to the public, and how the UFC finances compare with the WWE's.
2022 WWE vs UFC Finances: 2.4 billion combined revenue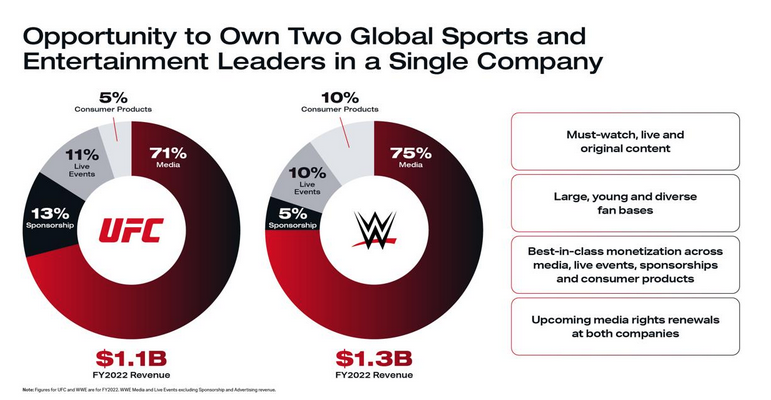 Bloody Elbow's earlier estimates on UFC finances had the promotion generating around $1.14 billion in 2022. This was originally based on Endeavor's filings from their "Owned Sports Properties" segment, which we know to be no less than 90% coming from UFC, and the remaining being from much smaller organizations in Professional Bull Riders and Euroleague.
Endeavor's latest financial disclosures to the SEC give specifics on the UFC only, and it does confirm our earlier estimates.
Endeavor's investor presentation that states the UFC had around $1.1 billion in revenue in 2022. They also included an appendix that indicates their net loss, adjusted EBITDA, and margins for both. This allows us to calculate an even more exact amount figure: $1.141 billion.
A graph in the presentation breaks down their revenue sources: $810 million (71%) from media rights, $148 million (13%) in sponsorship, $126 million (11%) for live events, and $57 million (5%) in consumer products.
According to their disclosures, WWE had slightly higher revenue at $1.3 billion for the year. Majority of that was also from media rights ($975 million), followed by live events and consumer products, which were both at around $130 million. Interestingly enough, the UFC had more than double the sponsorship revenue, with WWE getting around $65 million.
Combined, both WWE and UFC brought in around $2.4 billion in revenue in 2022.
2022 WWE vs UFC Finances: Net income and Adjusted EBITDA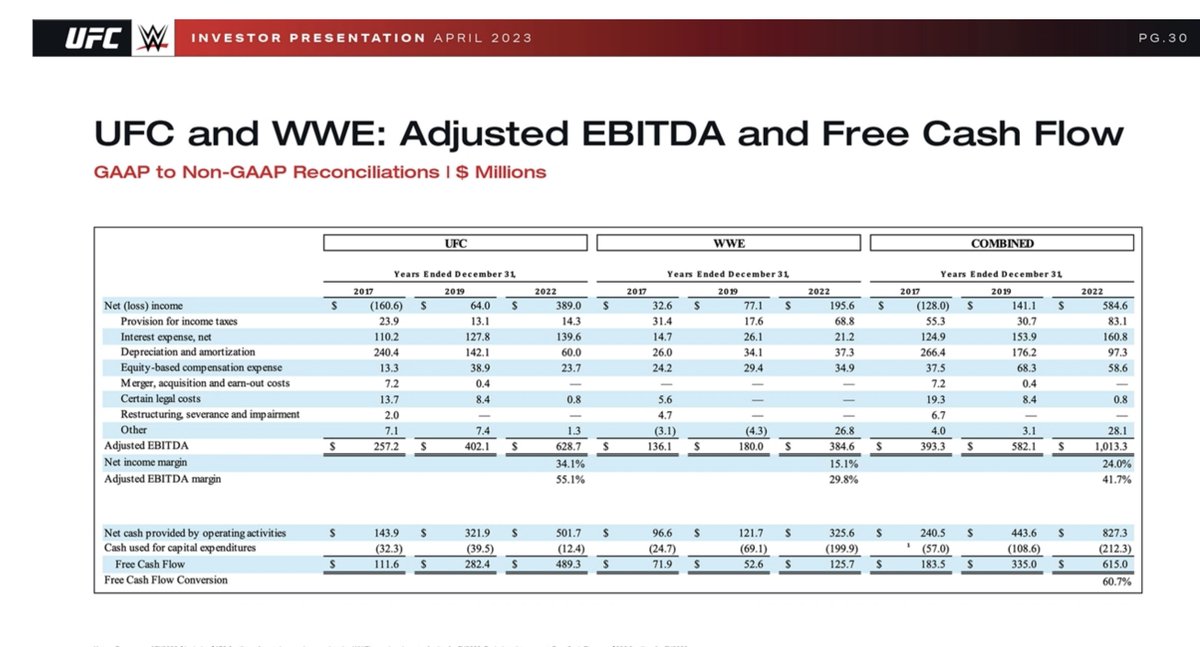 Also revealed was the UFC's Adjusted EBITDA (earnings before interest, taxes, depreciation, and amortization), which was at $628.7 million for the year. They also noted $389 million in net income.
Although WWE had slightly better revenue, UFC's very lucrative finances showed much higher margins in 2022.
For the year, WWE's Adjusted EBITDA was $384.6 million, with a net income of $195.6 million.
Endeavor also noted how UFC's valuation has almost tripled from $4.1 billion in 2016, to $12.1 billion in 2022. They also have WWE at $9.3 billion, with the new company combining both to be valued at $21.4 billion.
What happens to UFC fighter pay?
While discussing mergers and all these lucrative financial figures, a natural question becomes about the UFC's controversial fighter pay and very low revenue share compared to other sports. This is exactly what UFC fighter Mike Davis posed after news broke.
Unfortunately, it doesn't seem like 2022 improved in that regard. During Endeavor's previous filings, they did say that they had "lower athlete costs for UFC" last year. That really didn't sound too great for the UFC's already criticized pay structure.
Here's how Bloody Elbow's business expert John Nash broke it down earlier:
Based on comments by Endeavor executives, we estimated that total fighter pay in 2021 was $178.8 million or 17.5% of the UFC's revenue. This falls right in line with what we know about the share of revenue the UFC paid in the past and what they projected they would continue to pay after their sale in 2016.

If UFC's total athlete pay was just 1% lower in 2022 than it was in 2021, and their revenues ended up being $1.14 billion, then the fighters' share of revenue would have been only 15.5% last year.

Of course, if fighter pay was lowered more than 1%, their revenue share would've been even more lopsided in the company's favor.
Will things possibly improve for fighters after this merger? It seems like we might already have an answer on what Endeavor wants by just looking at the UFC's increasing valuation and high profit targets being tied to having low costs.
– Additional reporting by John S. Nash.
---
About the author