Table of Contents
Anthony Joshua vs Jermaine Franklin took place this past weekend at the O2 Arena in London. The heavyweight boxing match held significance as the return of former two-time unified heavyweight champion Anthony Joshua after back-to-back losses against Oleksandr Usyk. The British fighter outpointed Franklin and got back to winning ways.
The bout marked Joshua's first appearance as part of his exclusive five-year deal with sports streaming service DAZN, and while it wasn't a particularly entertaining display, it had its moments. Even with a lack of highlights, this is a great opportunity to study the game of boxing. Especially how a fighter with a significant reach advantage can use their jab to control opponents.
Make no mistake, Joshua has a great jab. He is able to launch it with speed and precision and pull back to safety or combine it with other long range punches.
Luckily for us, DAZN shared a great 13-minute highlight video of this fight, enabling readers to study most of the moves analyzed below.
That being said let's start analyzing. This is "Moves to Remember: Anthony Joshua vs. Jermaine Franklin"
Joshua's use of left hand attacks
An obvious part of Anthony Joshua's game-plan was to use his reach and mix attacks with his left hand. Here are some examples:
Jabs to left uppercuts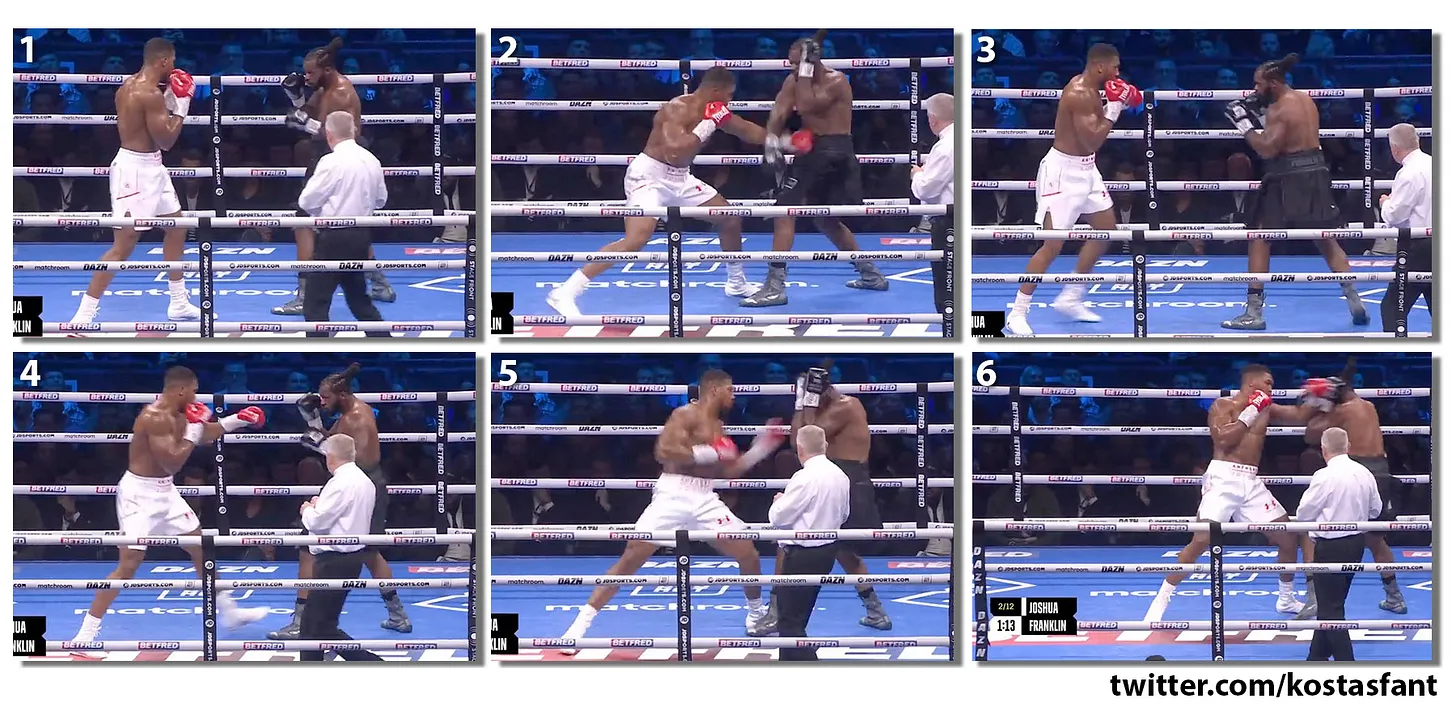 In the sequence above Joshua attacks with a jab to the body and follows-up with a fake jab to a left uppercut. He used this combo several times throughout the fight.
Jabs to left hooks
Boxers usually expect a series of alternating left and right punches coming their way. It's often useful, then, for fighters to break that rhythm by using double or triple attacks with the same hand. The jab usually forces the opponent to slip or pull back, creating an opportunity for a left hook to land.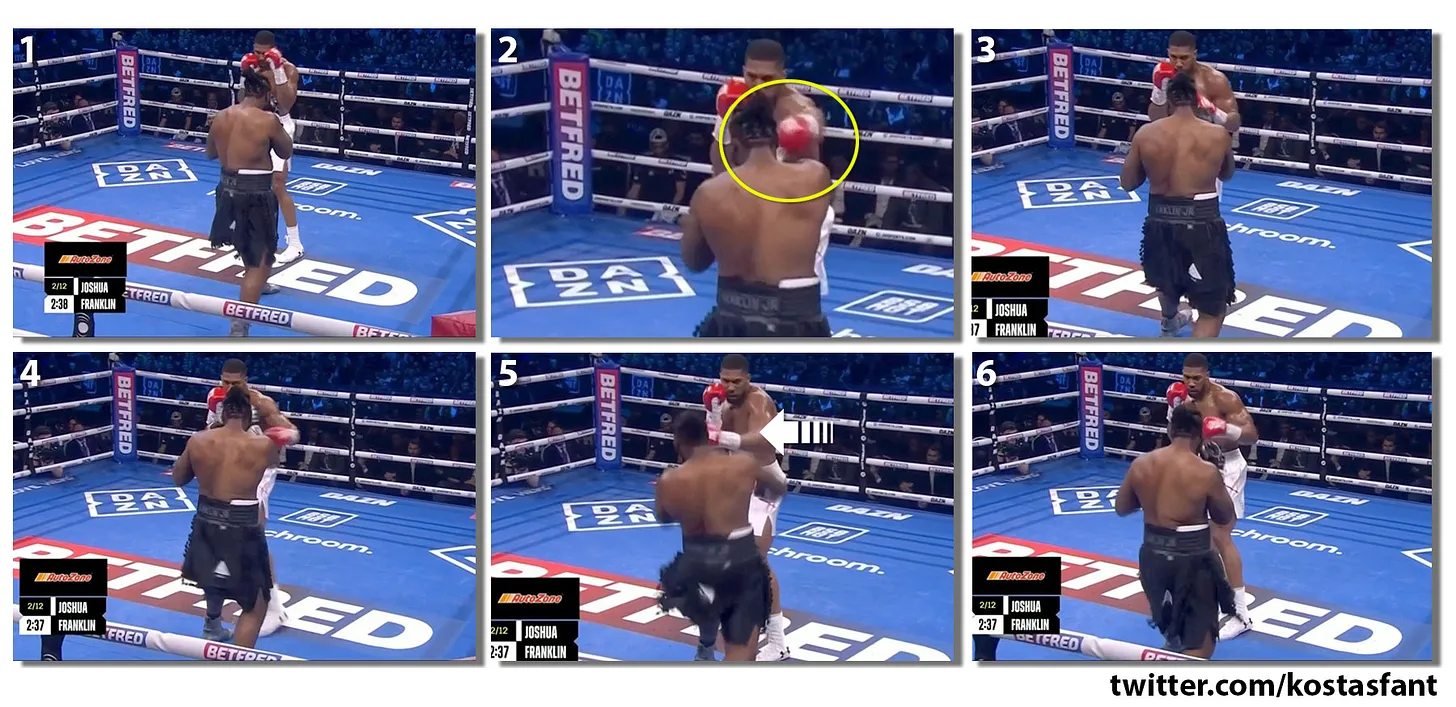 In the photos above Joshua attacks with a jab and follows-up with a left hook.
Jabs to jabs to the body to right hands.
This is another basic yet effective combo that enabled Anthony to keep his opponent guessing.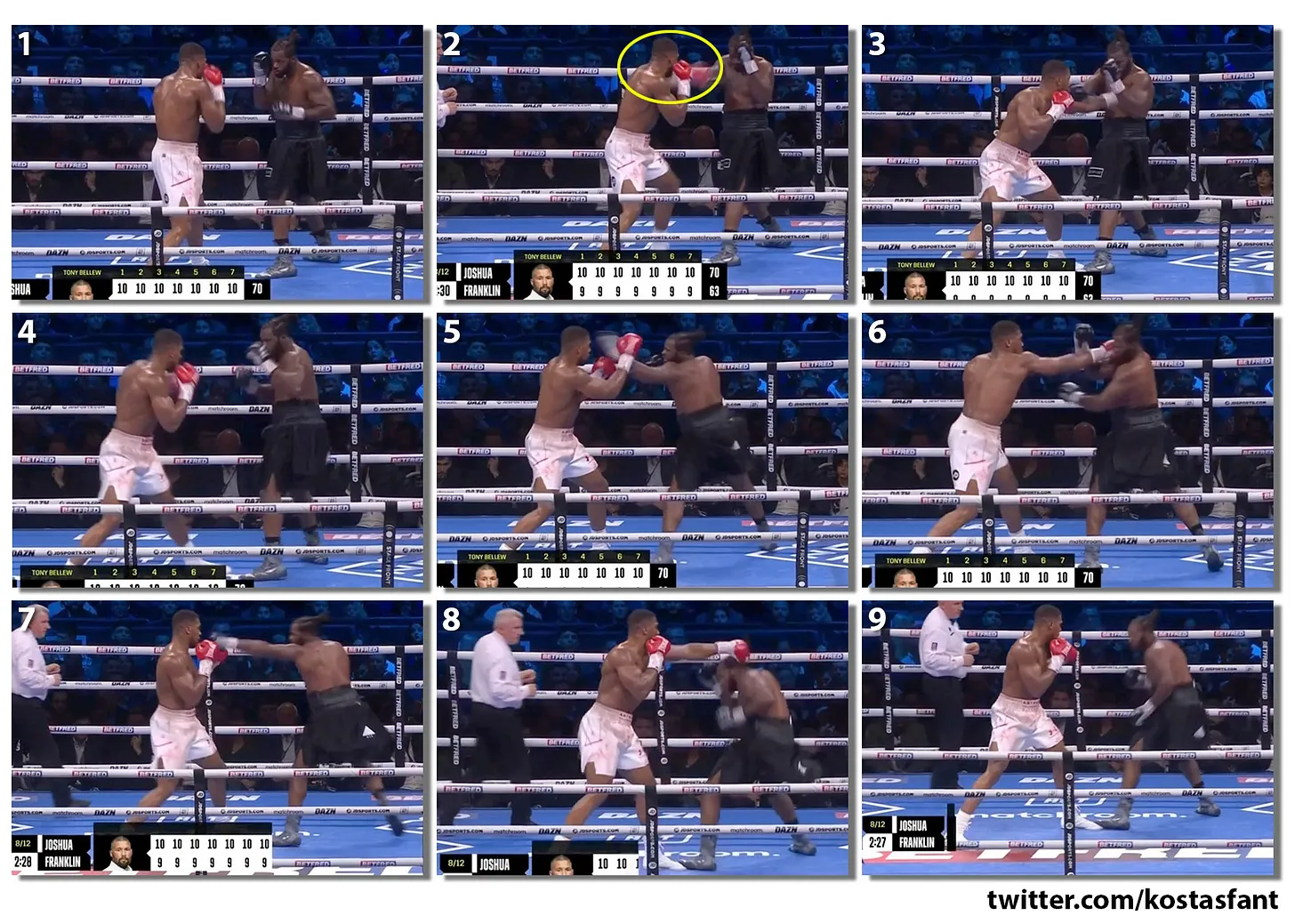 In photo #2 of the sequence above, Joshua throws a short fake jab and then attacks with a jab to the body. Franklin comes back with a jab of his own. Joshua checks the jab and almost connects with a right hand. Both fighters attack again and miss with jabs.
Double jab to the glove to a right hand
Another interesting move that Joshua was able to use in this fight was to jab his opponent's right glove.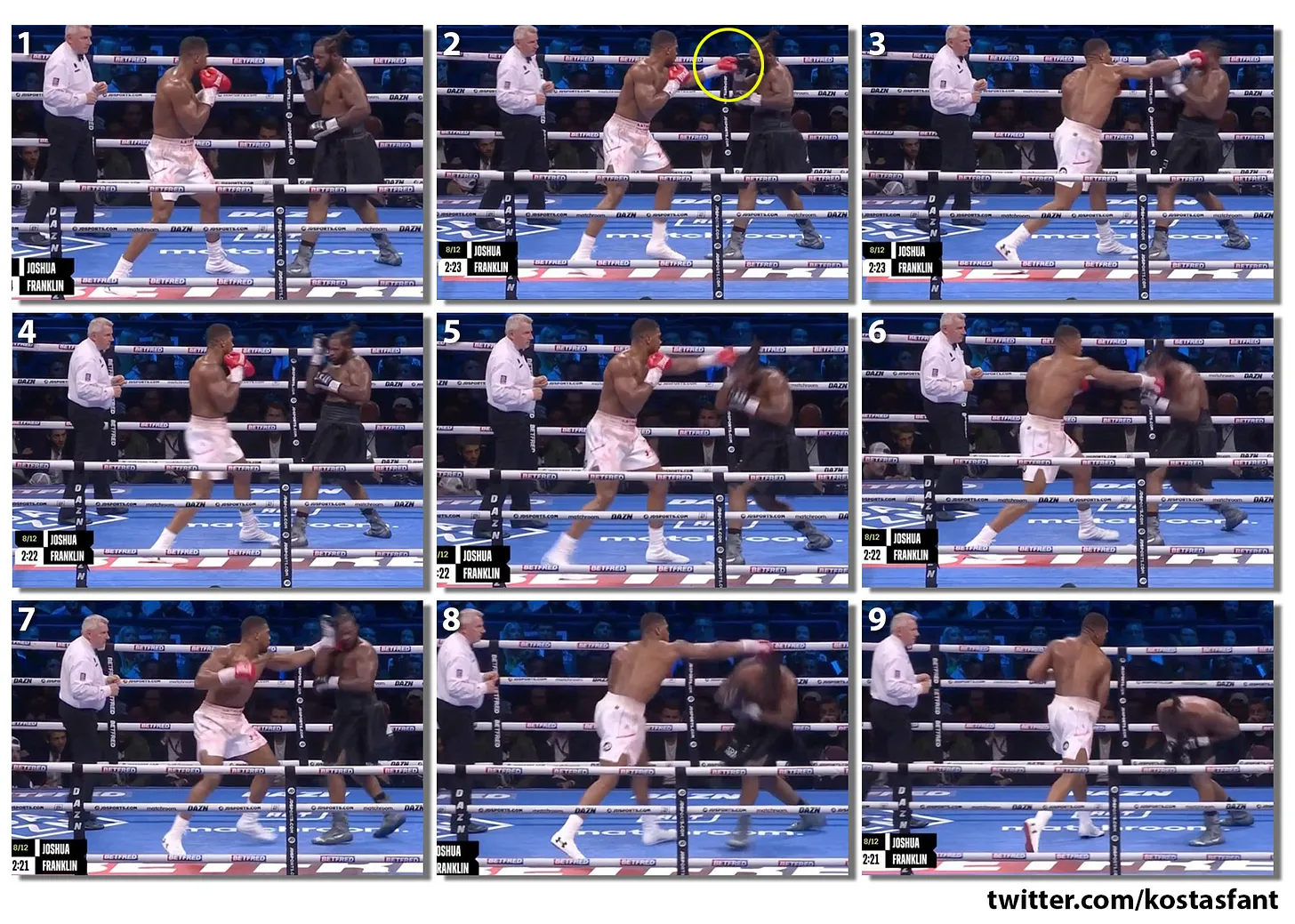 In the photos above, Joshua connects with his opponent's glove a couple of times and launches a beautiful right hand that lands on Franklin's head pushing it back. Anthony is not able to capitalize on this and misses with a jab to the glove, right cross, left hook, right cross.
Controlling the distance by pushing Franklin's head
Another tactic that Joshua used throughout the fight was to push Franklin's head with his stiff jab, or just by extending his left arm and touching his opponent's head. This seemed to frustrate Franklin who had trouble closing the distance.
Once proper distance and control were established, Joshua attacked with right hands. Here is an interesting exchange: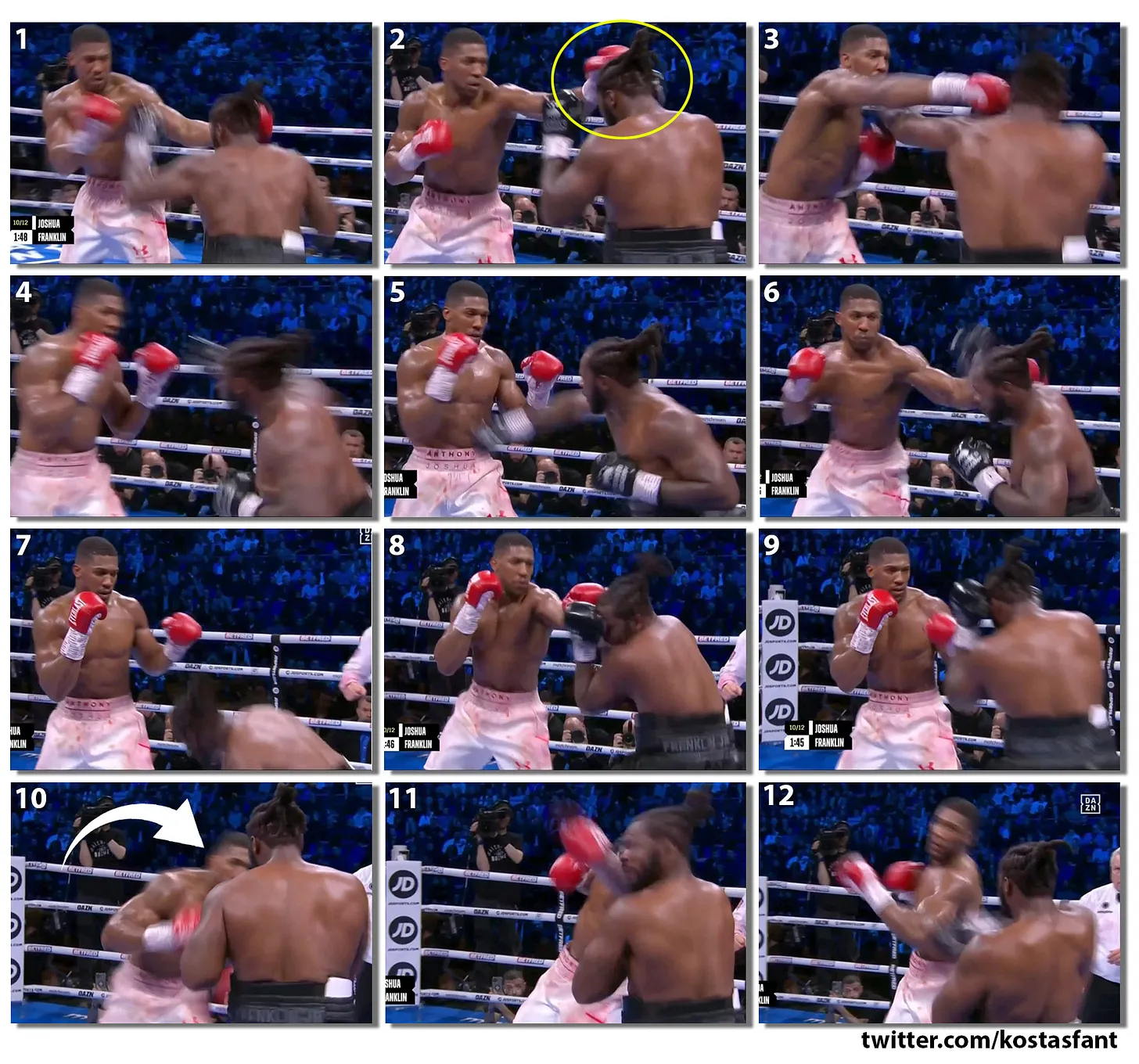 In the photos above Franklin tries to close the distance with body punches and Anthony Joshua just uses his left hand to push him away. Once the distance has been established, Joshua attacks with a right hand, Jermaine misses with a right of his own and then Joshua counters with a left hook, a jab and a left uppercut. Using the lead left hand is a great way for taller fighters to capitalize on their reach advantage.
---
---
About the author